Last weekend, the Product and Technology department of OLX Philippines had a teambuilding at Al Fresco Springs in Calamba, Laguna. We used our the January lunch out budget and our cash prize that we won last Christmas party. There was an abundance of food actually and I felt bloated throughout the activity. We were given the go signal to leave by 4pm from the management, given that all our deliverables for the week are done. Good for us, we were able to do it. We also made it clear that our last deployment should be on a Thursday.
After our weekly retrospect, me and some of my colleagues already left as early as 3:30pm. I joined the car of Arpee, along with Ben and AJ. We also did a side trip to the Meralco Bayad Center a few blocks away from the office to pay for sir Robert's and my electric bill. It took me about 15mins to complete the payment due to the long queue. After that, we immediately went to fetch Ben at their house. Traffic in Pasig is really a nightmare! Good thing we were able to get through and made it just in time at SLEX. It was an enjoyable trip having those three around. I thought we are going to be stuck in traffic, but apparently we arrived way too early. So we decided to do a stopover at 7-11 near the venue. Arpee and Ben decided to drink Red Horse. Of course, I drank Mountain Dew. After finishing our merienda, we proceeded immediately to the venue, albeit missing our left turn because the road to the subdivision wasn't as visible. But thankfully, we arrived safely at Al Fresco 2!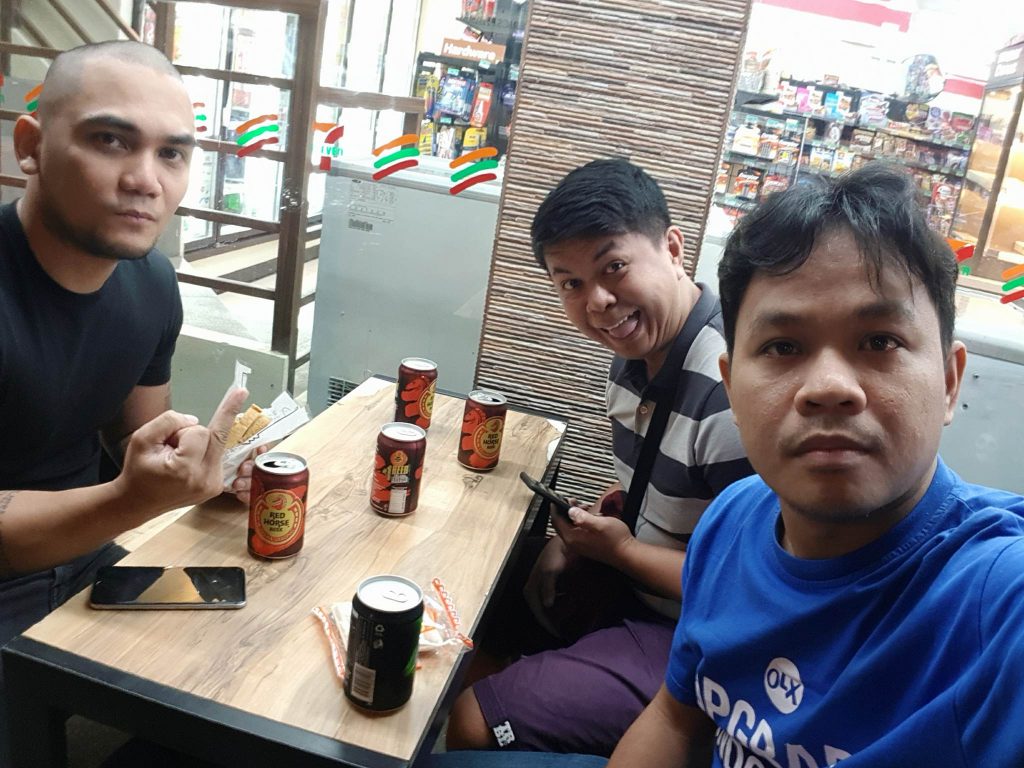 I'm actually amazed at how nice the place. It was clean, classy, and felt like a mansion. There was a dart board so I played whilst waiting for the others to arrive. The swimming pool was also warm you won't feel cold. The rooms were clean, smells like newly washed bed sheets and pillows!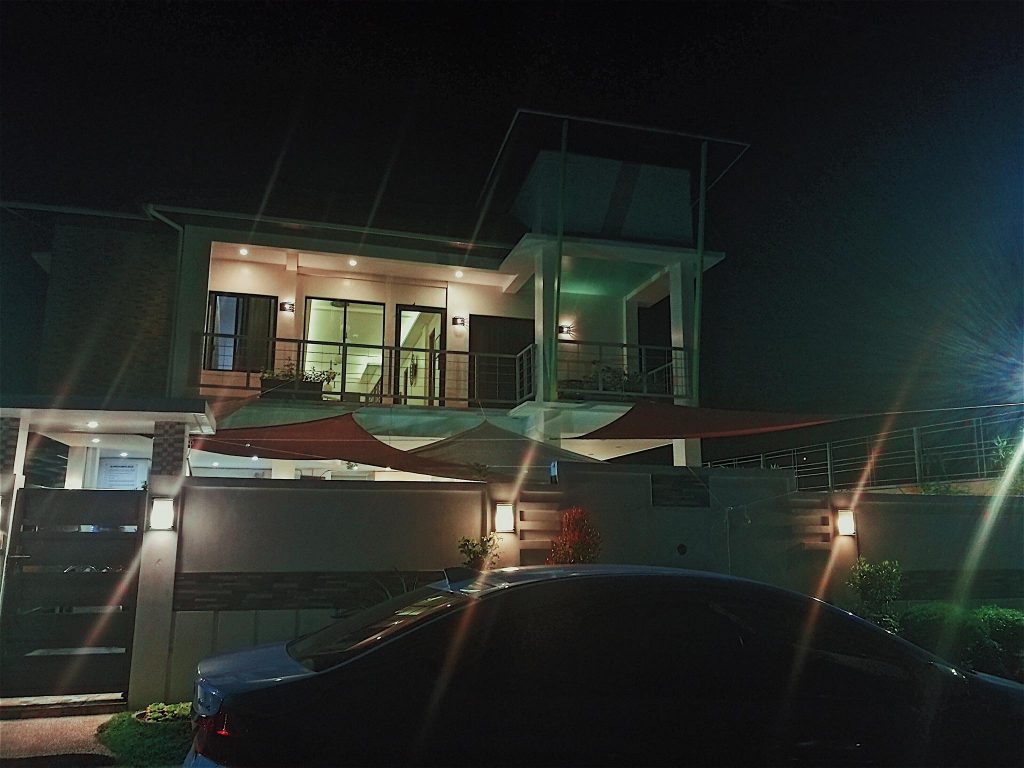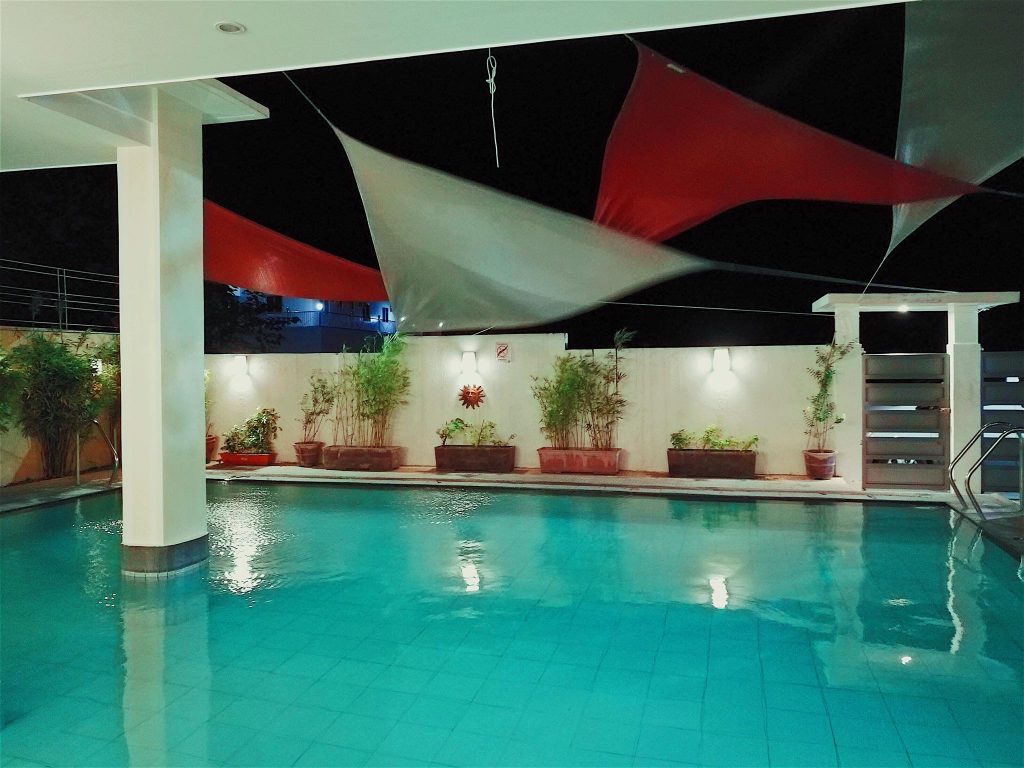 When everyone (almost!) has finally arrived, we went out for dinner at Max's. It was a birthday treat by boss Bit, our CTO. I got frustrated with my food though because the Tocino wasn't properly cooked. Sadness.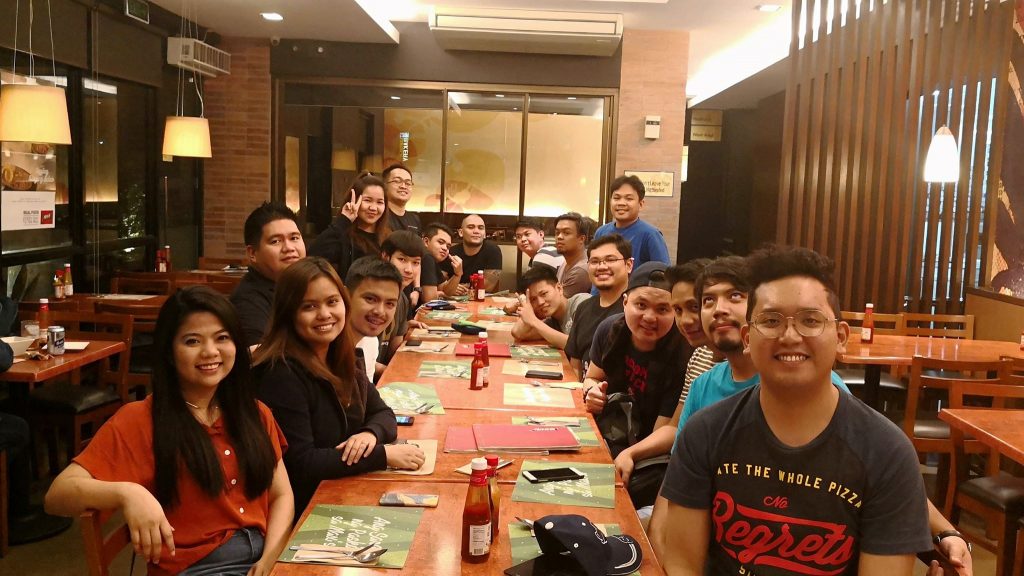 Upon returning to Al Fresco 2, people started to scram, helping out each other. Some were preparing the ingredients, some were starting to cook and grill, while others prefer to sing karaoke to their heart's content giving us pure innocent entertainment with their enchanting singing voices. It wasn't long too that we had problems with the website. VictorOps alerts started popping in. Unfortunately, the signal of Smart wasn't strong enough in the area. Good thing we were able to tether to a Globe phone. We also didn't know we had fast wifi all along! Apparently, one shard of our moderation scripts choked so a certain amount of ads weren't getting posted to our system after being analzyed. Good thing our DevOps, Arpee, was able to remedy it.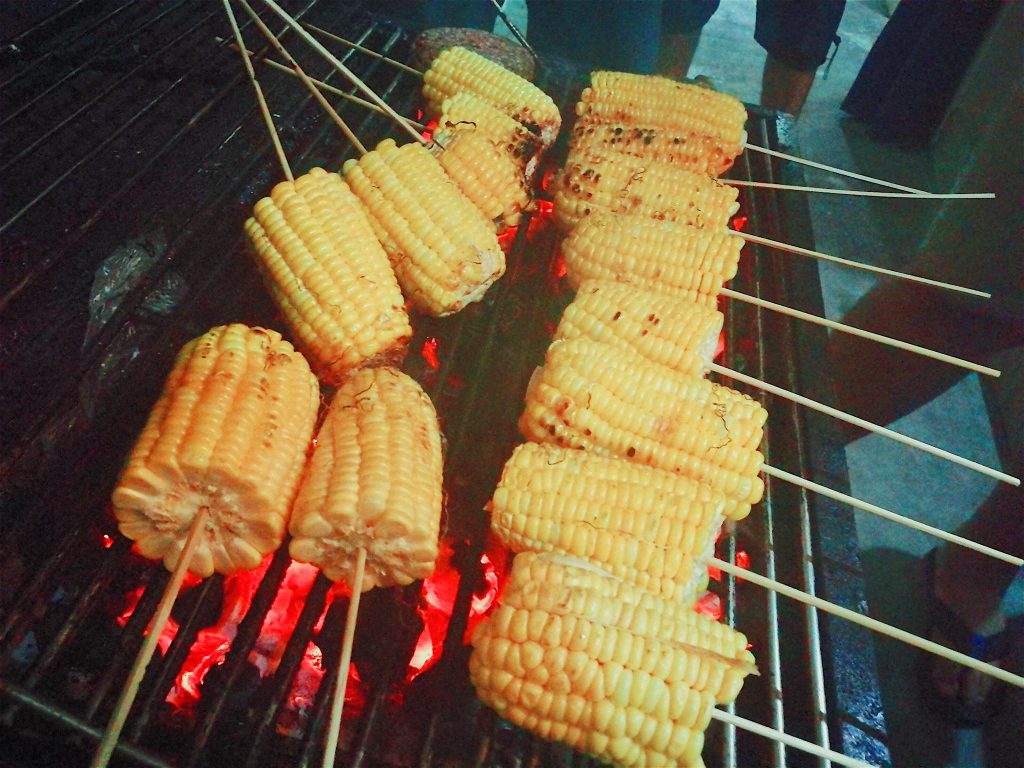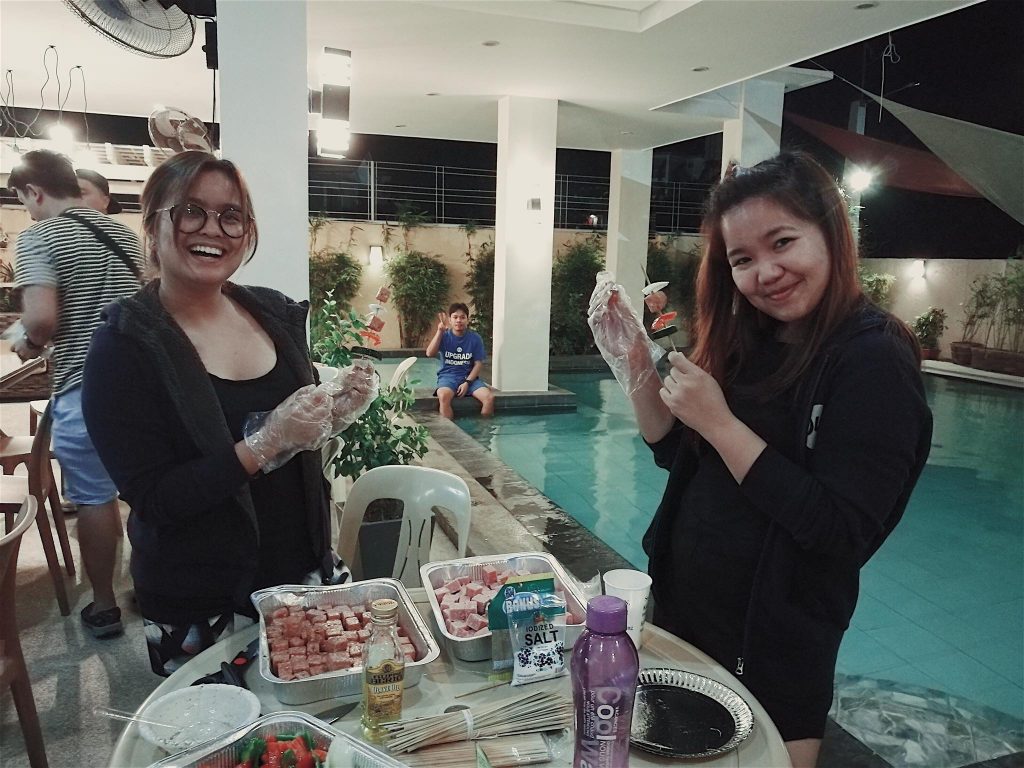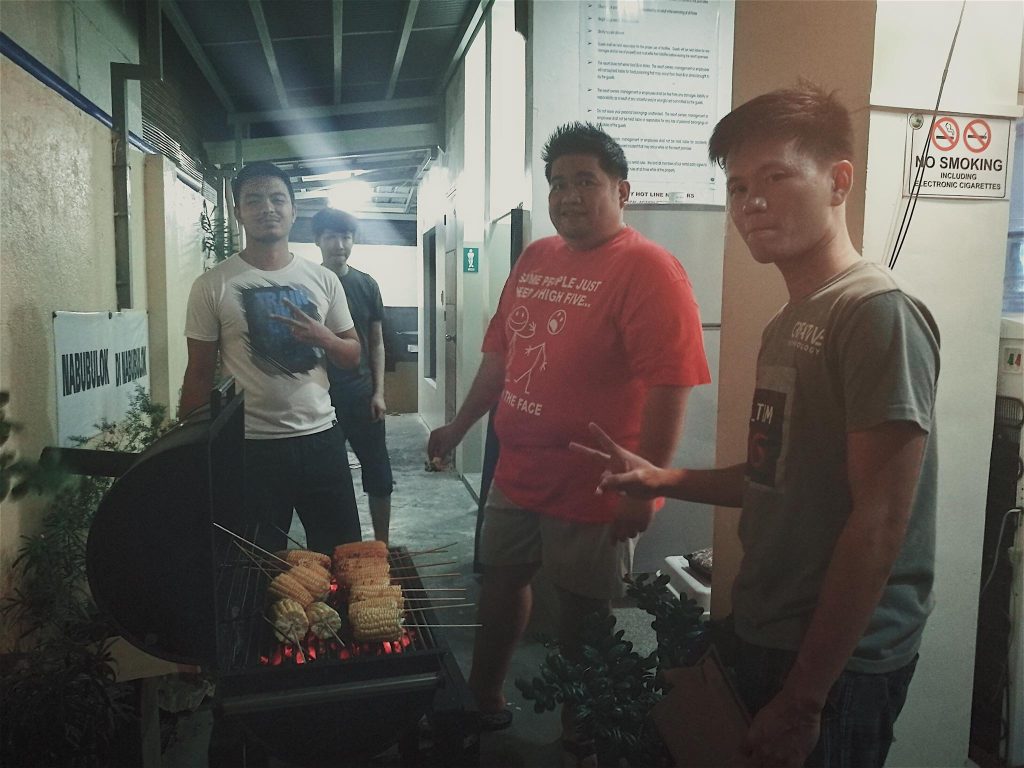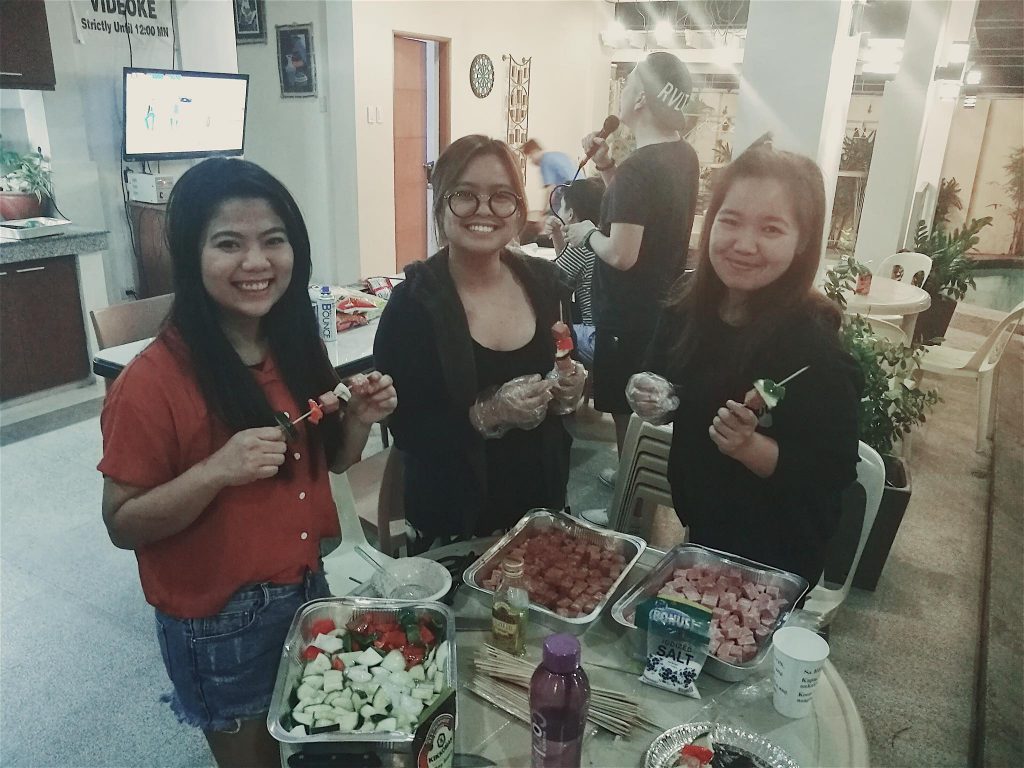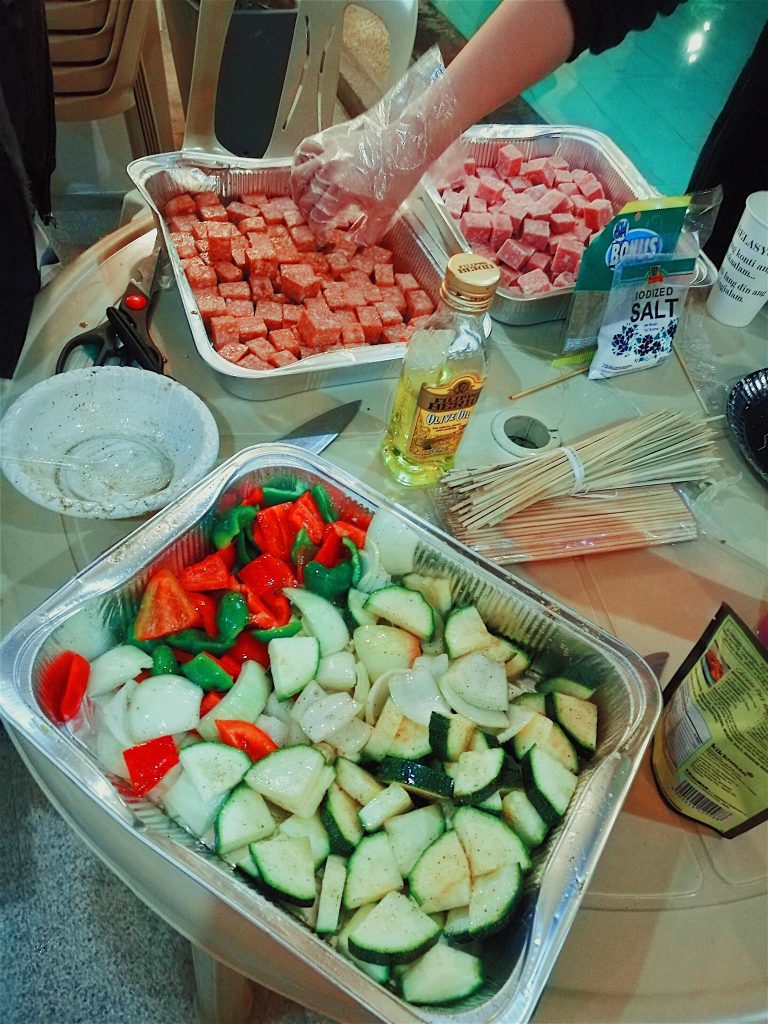 The party has started, with an abundance of food and laughter. We also celebrated the birthday our January celebrants.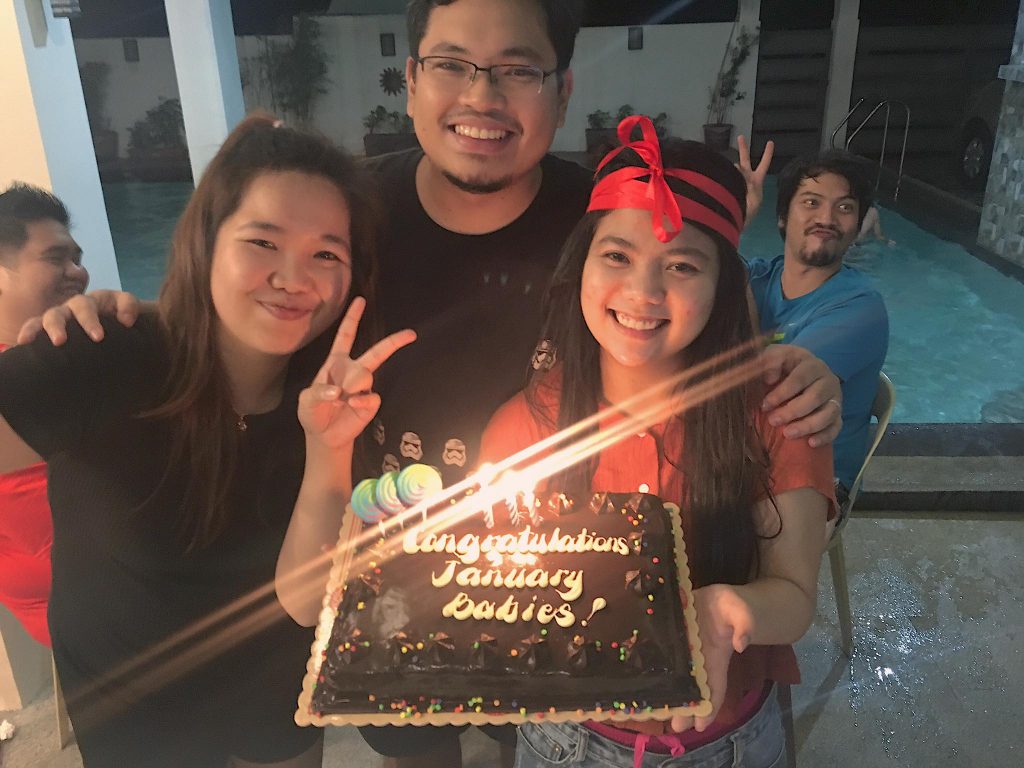 There was moderate beer and vodkha, but every one had fun. Although it's my rule to only just drink in an event at most once a year, usually it's Christmas parties at the company. We also had jokes, games, and poked fun at each other. Nobody was a killjoy. This is what I like about my team. Some may have different stands or perspectives based on faith, beliefs, political views, etc., but we make sure to have a healthy discourse always. At times, one fails, but we constantly remind each other that you can always learn from another person's point of view, if you listen wholeheartedly.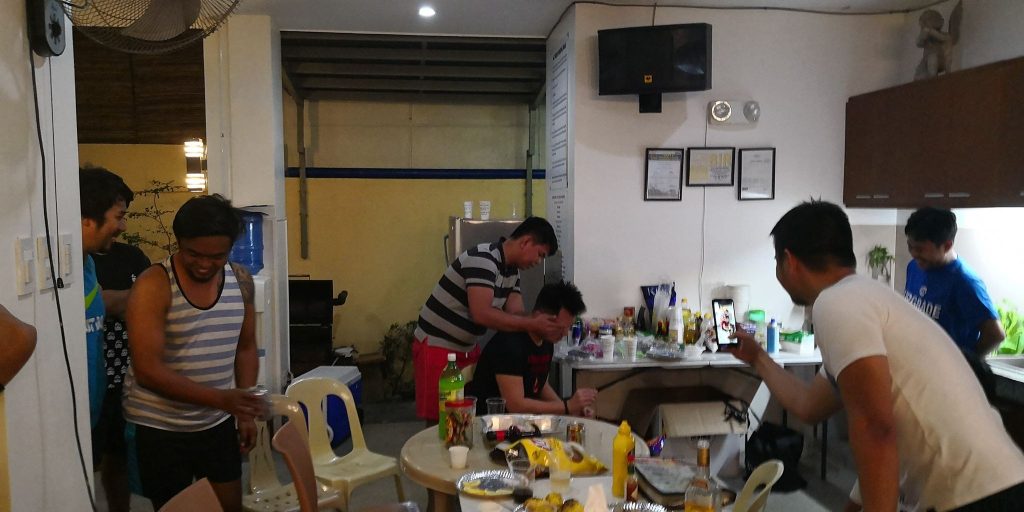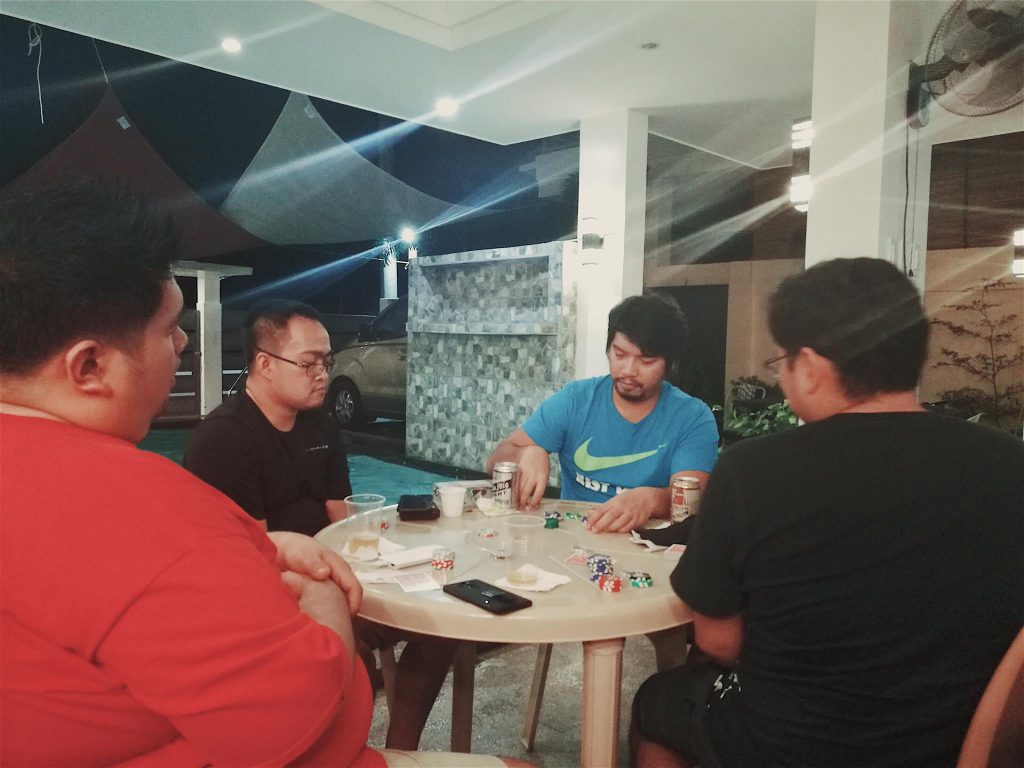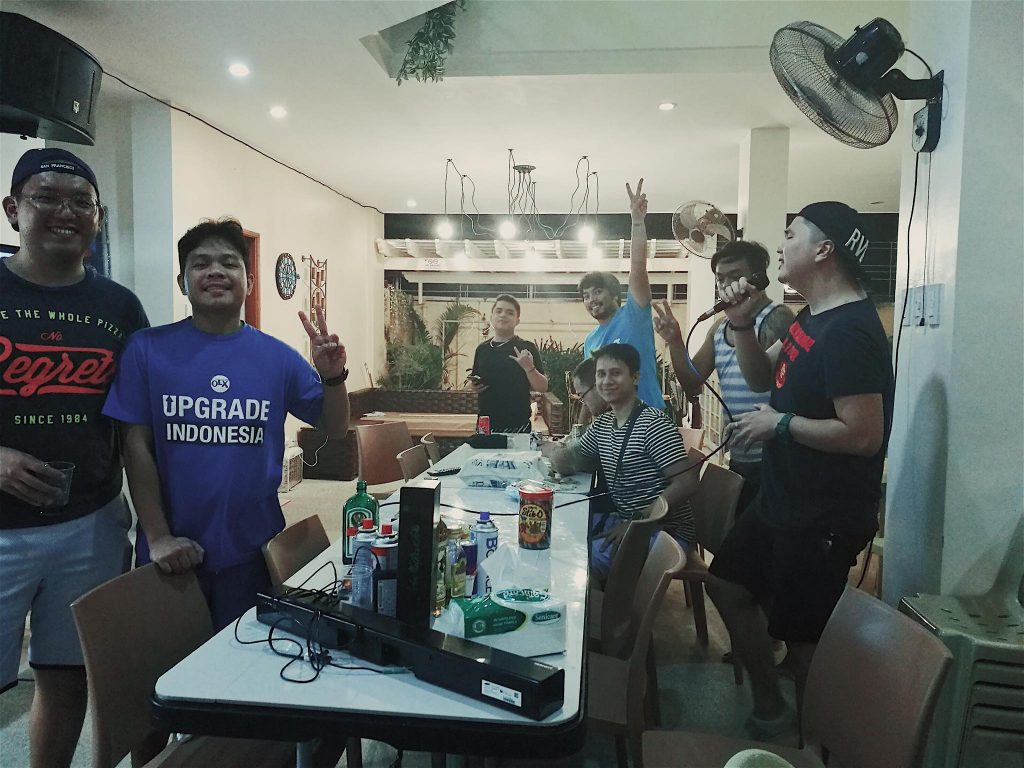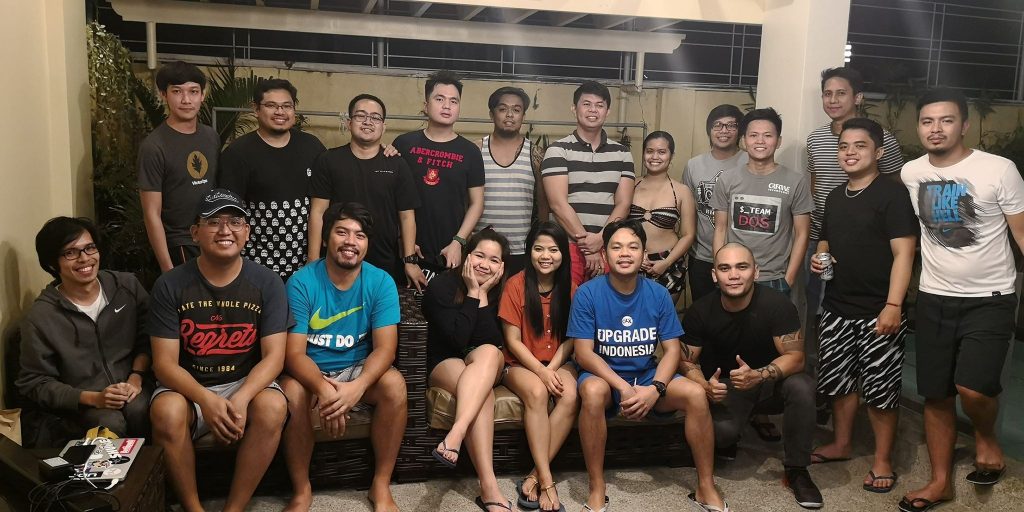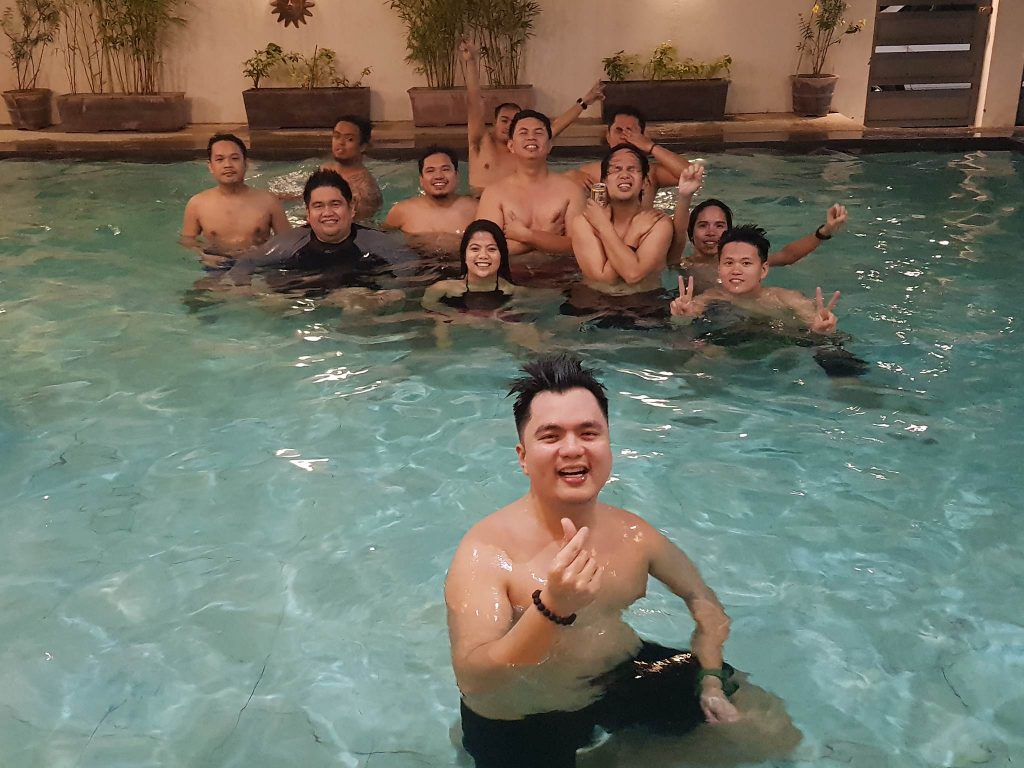 I had fun socializing with these guys. Talking anything under the moon. As an introvert, I can only handle talking to a limited people. People tend to misinterpret introverts as someone who don't really like to talk to people. We love to talk to people, especially when you are already comfortable with them. Time passed by quickly and it was already 3am, I took a shower and went back downstairs again and started listening to other people's love struggles. I didn't realize it was already 4am, so I went up ahead everyone to sleep. Upon arriving at our room, the aircon was on full blast at 19degrees. Huwaaay? It's already cold in Calamba. The bunk beds didn't have kumot too so I wore my pants and socks. Aaaaandddd… Ostaco was snoring. Grrr. Haha. But that's fine I was able to sleep. I'm just a light sleeper.
I woke up pretty early around 7am. I've already heard MC and Chabs calling out for breakfast. I chose to doze off until 10am. After getting up, there was already food downstairs c/o Chabs and Jessa. Sausage by McDo and pancakes by Jollibee. I also noticed Xander brought his drone. So I asked if we could fly it, which he gladly and happily let me. I was able to fly and maneuver it gracefully. I now want to buy one for myself! But I'll wait for Bitcoin to go up again. Hehehe.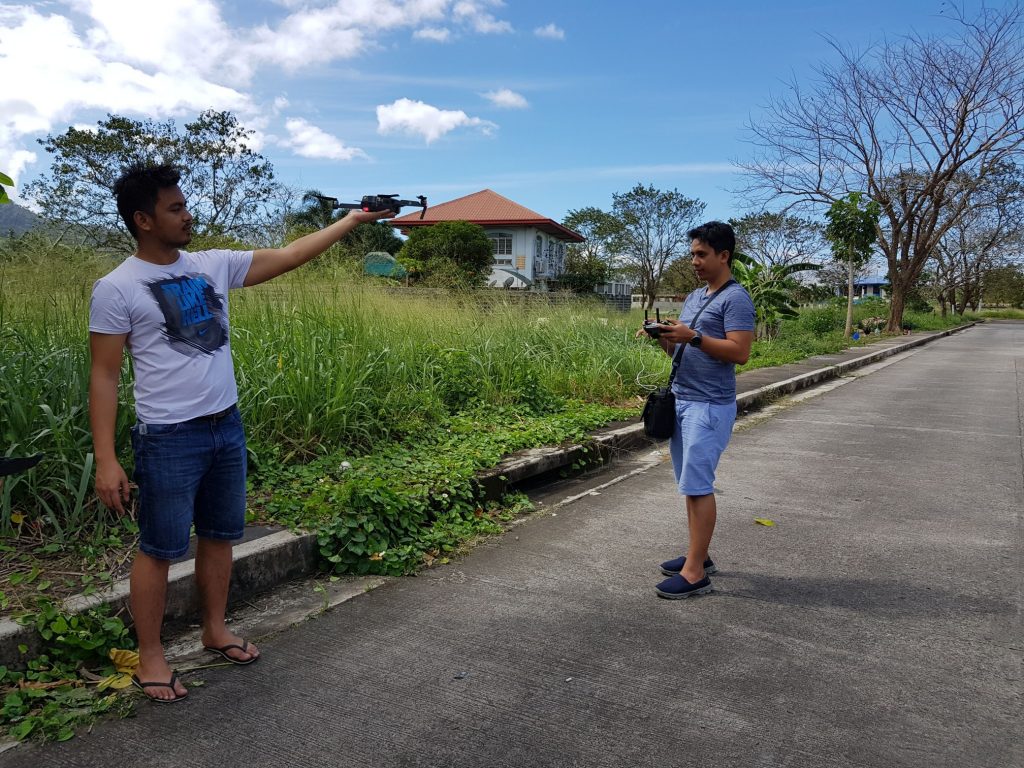 I can't also fail to notice how organized and meticulously clean this team is. Everybody went on out of their own volition to clean and pack everything else. Even the caretaker said that they should be the ones cleaning it. We got it back to its initial clean and organized state, even better! Overall, thank you to all the organizers, financers, drivers, cook, entertainers, etc. who made the outing possible. A simple, yet intimate bonding event such as this keeps the team's morale up, and helps build better relationship with each other. Not just at work, but also on a personal level.
(photos grabbed from Sir Verto, Chabs, Jessa, Mac, etc.)