My "digital workspace" has been so disorganized these past few years. I didn't know where it started, but everything is topsy turvy from files, emails, passwords, expense reports, etc. So I began re-organizing everything. Below are some of my the things that I've worked on.
Passwords
First thing on top of my list are passwords. I recently bought LastPass Premium only at $24/year.  The price is already good as it gives you emergency access in case you lose your master password, priority tech support, lastpass for applications, and 1GB of encrypted file storage. All worthit for the price right? I spent almost a couple of days trying to reset/change my passwords from all recorded accounts saved at my passwords.google.com account.  After transferring everything to LastPass and to another [backup] password manager (which I'm not going to tell), I cleared my saved passwords in google.
Below are some of the features that I like about LastPass.
Fingerprint Unlock
I know this is a security and privacy concern for most people, but I don't really mind having my fingerprint being recorded by Apple and Samsung. I've already given away those details for companies that I worked with (fingerprint timekeeping), and Philippine government agencies such as NBI whenever you ask for clearance or during annual medical examinations.
Security Challenge Score and Password Details Stats
I always try to make everything green and above 90%. I don't know why my Master Password Score is still at 87%, but I do know it's strong enough to be broken. Maybe because the characters aren't as randomly generated. But, who wants to remember gibberish passwords anyway as their master password?
Password Generator
I've always hated it when systems asks me to regenerate or change my password every X period of months/days. There came a time when I always ran out of passwords to think of. I never thought how password managers can save you from the stress and at the same time keeps you secured. I feel the total opposite now when systems don't remind me to change my passwords. Hmmm.
Auto-fill
I used to be very dependent with google's password manager. Based from my experience, google password manager still has a long way to go in terms of auto-fill. It's not smart enough to fill-in the correct fields especially with accounts. With LastPass, it's just a breeze. Whenever I purchase something online, I just use the Form Fills functionality and I don't have to enter those repetitive details again (except for the security code).
Emergency Access
There will be times that you mess everything up. Like losing your gadget or mobile phone. There'd be no way to access your LastPass account. Good thing they have this functionality. So you might be thinking, what if one of your trusted people's account gets hacked? Fret not, you can specify how long before they can gain access to your account. You should set it at a very reasonable period wherein your trusted account can already inform everyone that their account has been compromised.
Two-factor Authentications (2FA)
I had a lot of authenticator apps in my phone. Recently, I decided to use only Authy. It's FREE and easy to use. Always remember to enable 2FA if available. Because even if hackers are able to gain access to your password, they would still need a code to continue accessing your accounts. Almost all of my accounts have 2FA installed. From banks accounts, credit cards, emails, github, cloud servers, etc. Apart from this also, please download backup codes offline just in case you lose your phone. Remember to back it up on a secured platform such as Microsoft OneNote or LastPass Secure Notes.
Files and Cloud Storage
It's been a while since I revisited my files. I already retired my 1TB Western Digital hard disk to the province. But basically, I've already uploaded almost all of them to the cloud for backup purposes. This can be a bit tricky because cloud storage comes with a price.
Below are my choices:
Dropbox
As of the moment, I only use dropbox as a way to upload photos from my phone the cloud, then from the cloud to my laptop. The reason being is so that it would be easy for me to isolate each cloud storage for a purpose. But the limitation really is that I'm only using their FREE tier, which gives me roughly 11GB of digital space.
Google Drive
I use google drive for files and documents. Given also that google drive doesn't support multiple accounts, you can opt to purchase Insync, a Google Drive Sync & Backup app. Pricing is already one-time at $29.00 per Google Account. I am only planning to get one for my personal account. My office drive is not permanent and will eventually be revoked once you leave the company. So here's what I did. I tried Insyc and linked my personal email. I then linked my company email with my Google Drive account. Here's how it would be like, organized in one directory under Google Drive, but with Insync and Drive installed.
Amazon Cloud Drive
I've recently uploaded all of my photos here. Photos that even date back as far as 15 years ago during my high school years. I purchased the 1TB plan at $59.99/year. Quite pricey but I actually needed this for backup. I don't know how long will my physical 1TB last, given that it's almost 10 years old. After transferring my phone photos from Dropbox to my laptop, I upload them here and delete the photos in dropbox.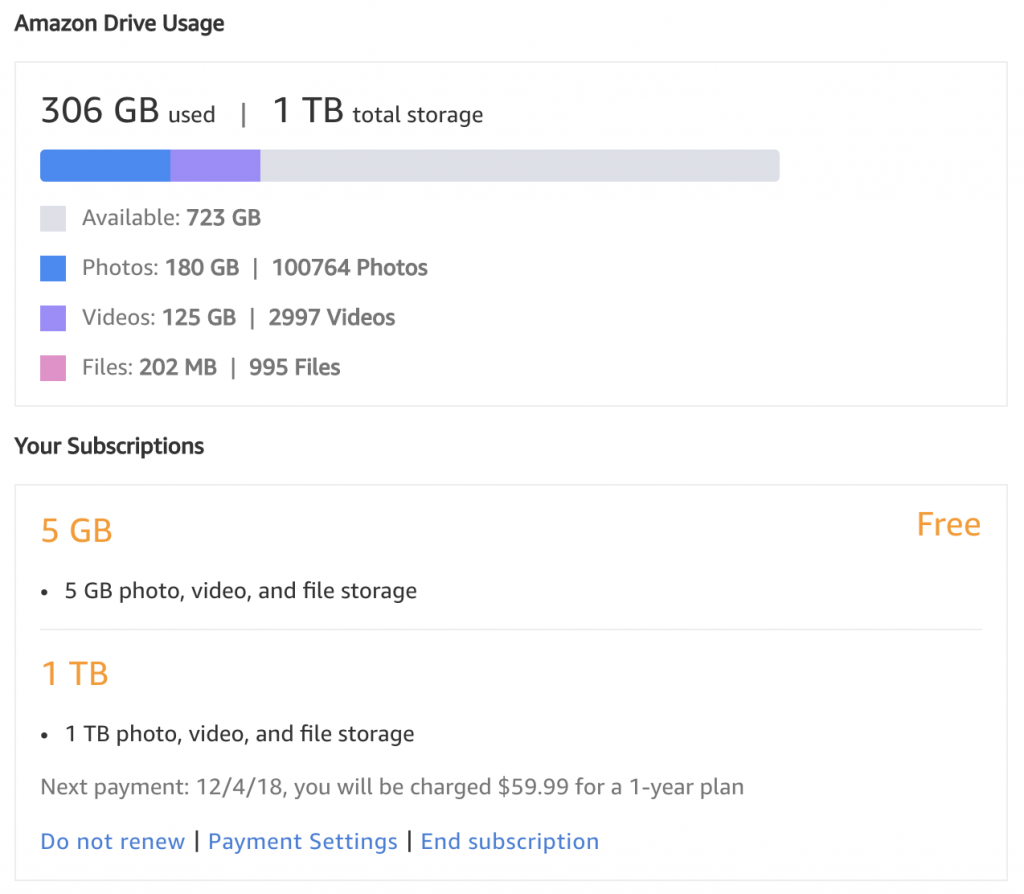 Social Media
I've been re-thinking lately on how to better organize this part of my life. My Facebook account is very private and I don't intend to share everything to anyone. Only my connections get to see what I post. My Twitter is also just an alter-ego of my Instagram. So this is what I have in mind for now.
Facebook
From now on, I will be cleaning up my contacts here. I will start to remove them or just move then to another set where their access to my timeline is limited. We'd still be connections, but I would still be able to read theirs. But why would I waste my time reading other people's posts that don't interest me anyway. Facebook will be where I post photos and personal life events.
Twitter
What I can think of this medium is this is going to be where I will post about Technology. I don't have much interest for Twitter anyway. It's going to be some sort of glorified bookmark from now on where I retweet posts from prominent people in the tech industry. And yes, for reaching out customer support of certain products too.
Instagram
I don't understand Instagram stories too. I mean, I don't get it why you would post something and have it removed after 24hours. But I can see that my friends are enjoying it, so who am I to complain. It's just that when you don't get online for a day, those stories immediately get deleted and you missed it out. What I can think about my Instagram account would be photos every time I travel, and probably photos of my cats and food. We'll see.
Emails
To be honest, I haven't really organized this yet. I haven't found the "right" Mac email client for this. I have certain requirements: drag & drop, minimal memory usage, minimalist design, lightning fast, cheap pricing, amongst others. I've tried Thunderbird, Spark, Boxy, and Polymail.  All of them don't seem to fit my liking. Any other recommendations?
Expenses
I've also tried several expense managers out there. But none of which has also fell into my liking. For now, I'm using Expense-Monthly Budget planner android app. I would like a web or desktop app for this though as it is much easier to input figures in your phone. Aside also from expense manager apps, I had to re-organized my bank accounts because of the recent fraud attempts from BDO account holders.
This is what I did to organize my bank accounts:
Life Savings Accounts
This is a savings account, whose branches are located in a quiet areas in Metro Manila. These accounts have no ATM and require a passbook to be withdrawn. Spread your life savings account. Never put them in one bank!
Checkbook Account
This account is where I put money to all my expenses that require cheques. Only add money here when it's near the due date. Don't put any unnecessary amount here.
Payroll Account
This is my main source of money. Once I get my pay, I immediately transfer my money to its intended purpose. My rule here is to never retain money larger than 10,000 pesos. In a previous payroll (different bank), my ATM was compromised. I don't know where and how, but I did swipe it for debit card purposes to a lot of merchants. I also didn't care which ATM I withdrew. That was probably one of my many mistakes. The thief was only able to use around 4,500+ pesos because that's the only money left on that ATM. I filed a complaint to the bank and I was able to get my money back after a year of constant follow-up. Remember, always be wary and cautious where you withdraw money. And as much as possible, pay in cash or credit card.
Cryptocurrencies
Let's face it, cryptocurrencies nowadays is a fad. It wasn't as hyped as before but since most people already know about this, more criminals and fraudster are also taking advantage too. Never put all your cryptocurrencies in one wallet too. I bought a hardware wallet last year where I put most of my bitcoin. Secure your passphrases!
Credit Cards
I've been a credit card user for 7 years. I never really wanted to get one before, but it's something necessary nowadays. Back in 2010, I got my first credit card. Currently, I have 5 credit cards. I don't know why but these banks keep on giving me and I'm gullible enough to activate them. I am planning to just get three.
Below are some of my tips on how to properly manage your credit cards:
Online Purchases
I only use one card to transact all of my online expenses. This card is the one that has the lesser credit card limit. The internet isn't a safe space so any transaction made is already putting your credit card one foot at being compromised. If PayPal is available, make sure to use that option.
Operational Expenses
This card is used to purchase everything else for my expenses. From groceries, Uber/Grab trips, fancy restos, shopping, etc. I always "try" to keep this card's bill at 5,000 pesos, but I always fail and exceed. Hehe.
Backup
I use this card as backup whenever my main card isn't available and, if for some unlikely reason, "denied" a transaction using my other card. I also use this for my overseas transactions as I can isolate my expenses abroad.
Enable Notifications and Two Factor Authentications (2FA)
Lastly, please, please, please, enable 2FA and notifications. As for me, I set my notifications of any transaction exceeding 2,000 pesos, I would be notified via SMS. This allows me to track any fraudulent purchases happening on my card.
For now, these are the only things that I could think of organizing. Do you have any suggestions? Feel free to comment below!