The Rakuten Rouleurs cycling club decided to do the Suruga Bay Tour for Autumn. Suruga Bay is located southwest of Tokyo in between Izu Peninsula and Shizuoka Coastline. It is also the deepest bay in Japan.
The starting point for this group ride was in Shimoda station. However, I kind of cowered because when I checked the route, it had a lot of tunnels which are probably more than 1km long. I am claustrophobic and the wind tunnels are driving my ear nuts.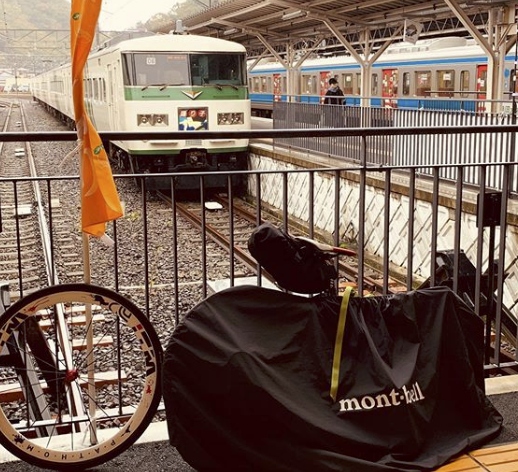 I decided to switch my train ticket to end at Shuzenji station and start my journey from there. However, it started raining and I feared for my dear life that I decided to take the bus going to hotel place. I managed to find the bus I'm supposed to hop in, but it started to really get crowded. There wasn't any space left that I had to stand in the middle. Then a group of foreign tourists suddenly came in and started hitting my bike with their luggages despite the fact that it's already on the site. Fortunately for me though, one Japanese lady noticed and was kind enough to exchange her seat for the one at the back. I will be forever thankful to her. She also noticed that I kept on looking at Google Maps to check if I'm near my stop. She asked me in English where I was going and she said it's still far, just enjoy the view for now.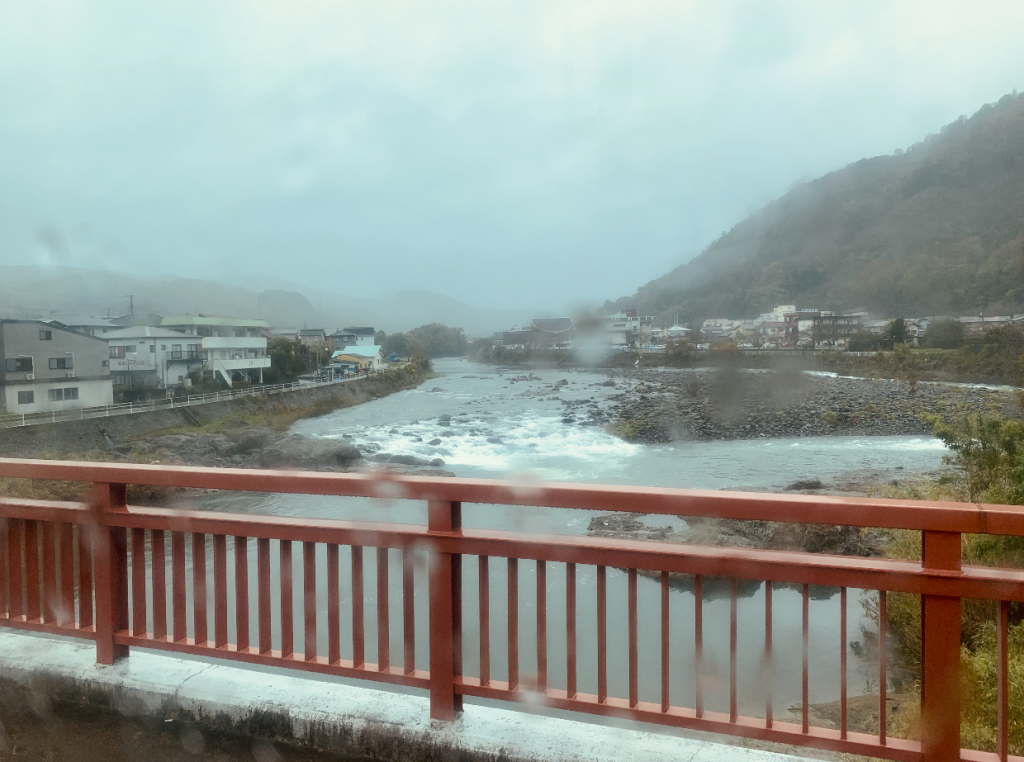 On the size of Shuzenji it was cloudy and rainy, but after crossing the mountain? It was sunny! The sky was blue and the sight of the after rain hitting the mountain slopes was so awesome.
The passengers from the right side of the bus were busy looking at the sky so I also got curious. The same lady told me that there's a "Niji (虹)" or rainbow outside and invited me to look.
Upon arriving at the bus stop, I assembled my bike, took some photos.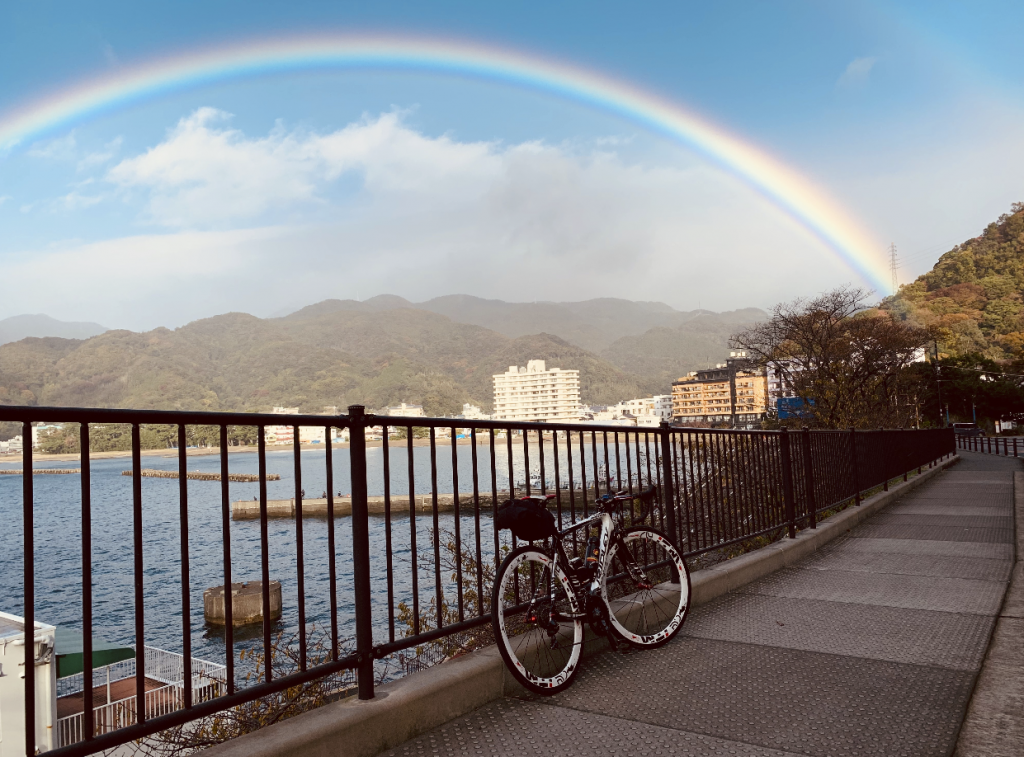 Now, the main group is still riding their way towards the hotel and it will probably take them 2 more hours. I went to visit the hotel which is just a few steps away from the bus stop. Instead of waiting, I decided to go for a quick ride. I wanted to go up the northernmost of Izu Peninsula, but found myself in awe of the beauty of the town. The rice fields, the roads, the scenic views, everything was surreal.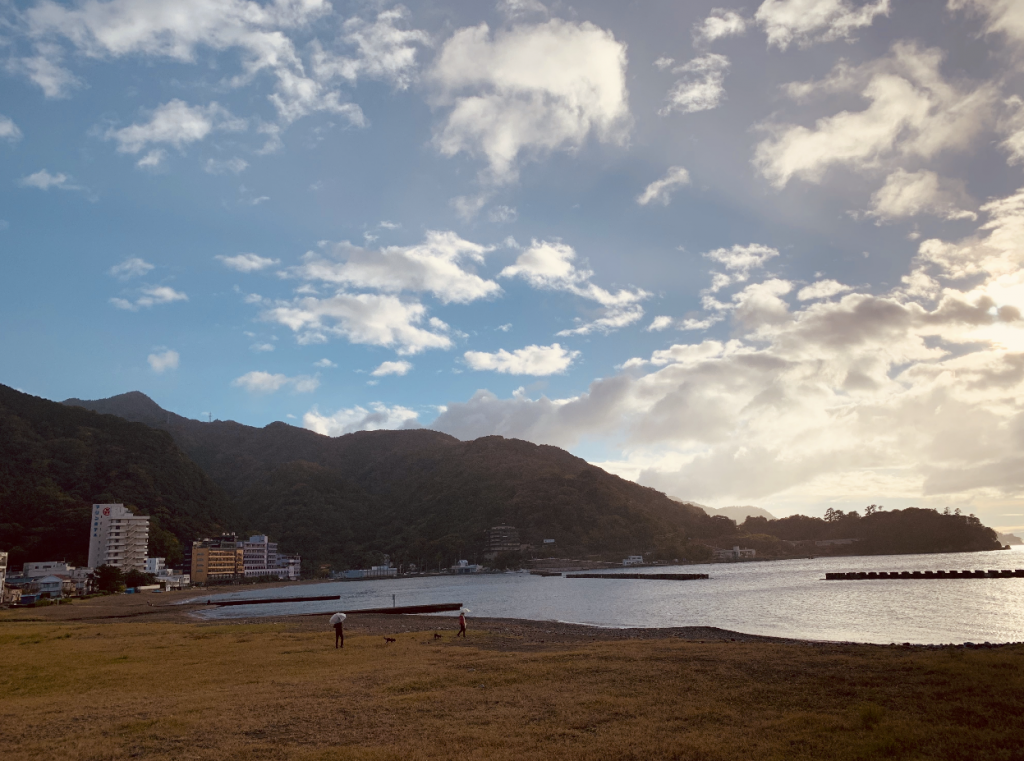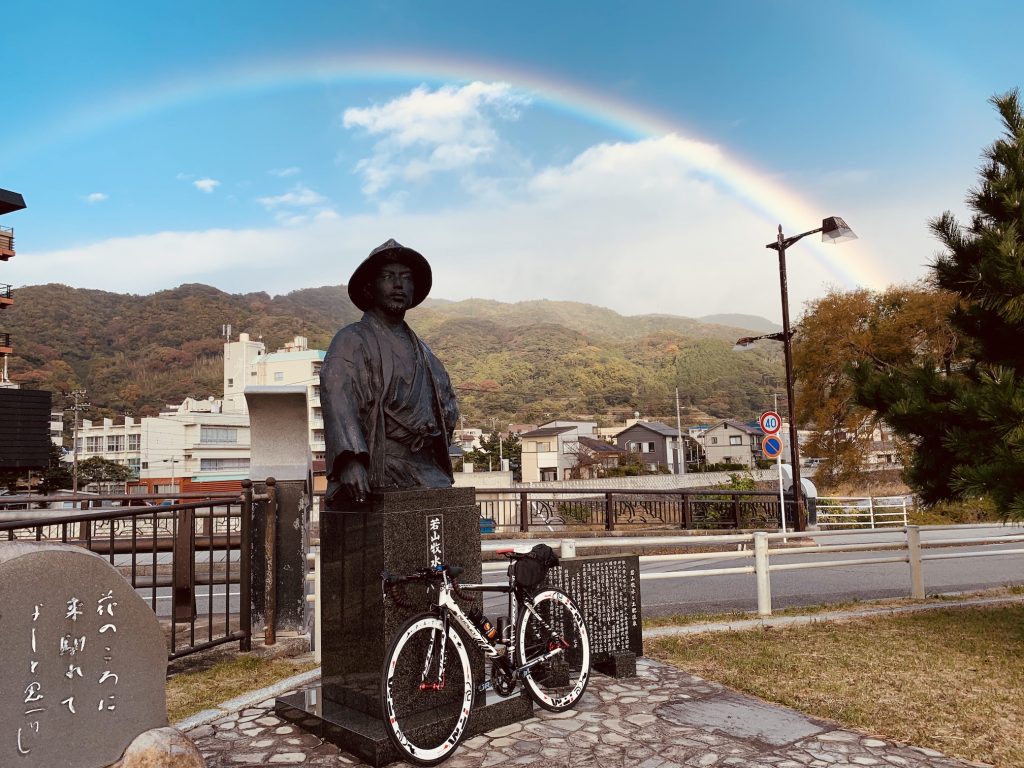 The ascent uphill was also quite majestic. The smell of dirt and trees getting wet after the rain is so refreshing. I got lost in one of the rice fields that I passed through a narrow hill climb. The view atop was all very worthit!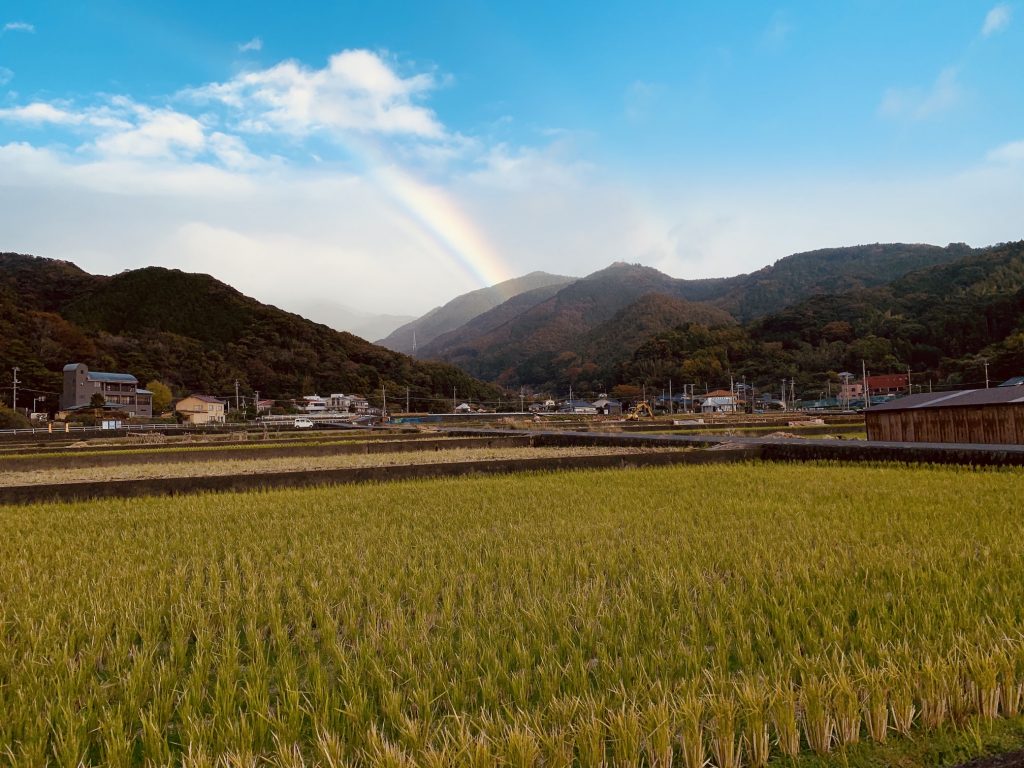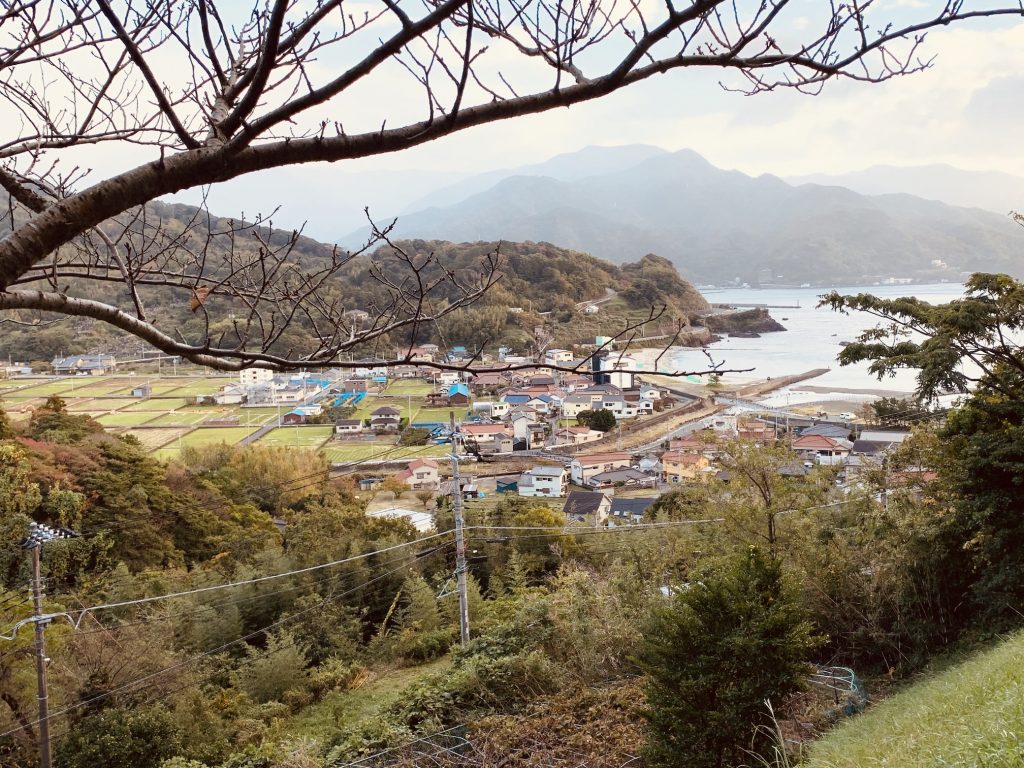 As I ascended to the mountains, things started to feel placid. You get to hear birds chirping, leaves brushing each other, and the gentle waves hitting the shoreline below. I'm still glad that there were cars passing by, at least it shows that there's still civilization.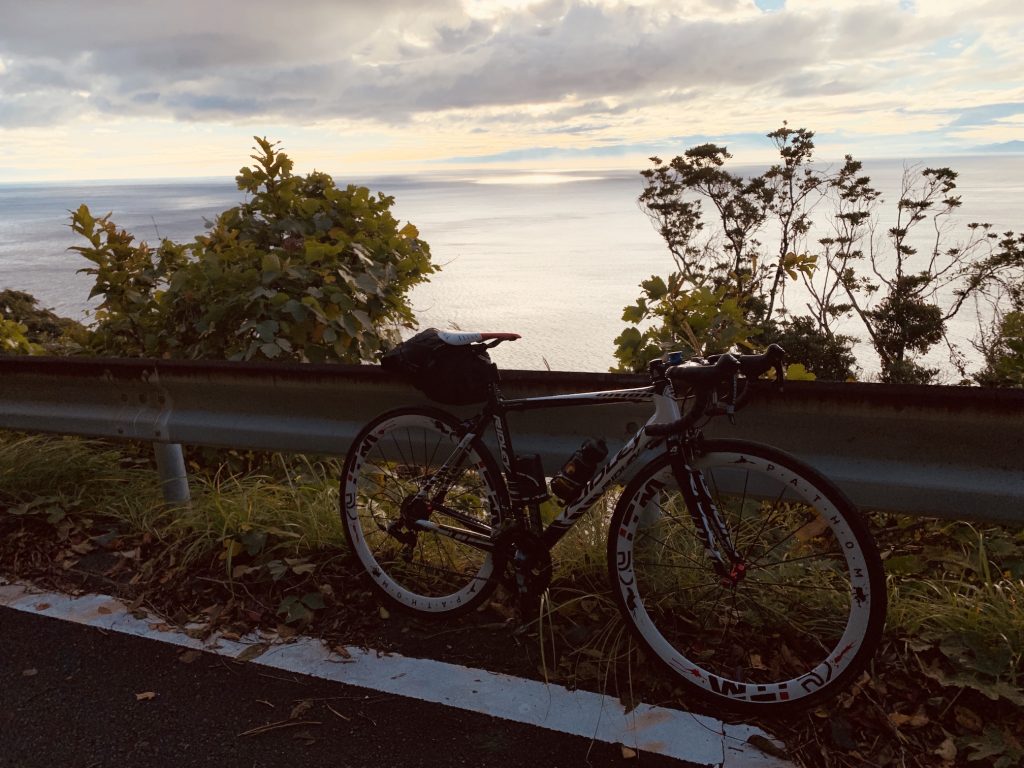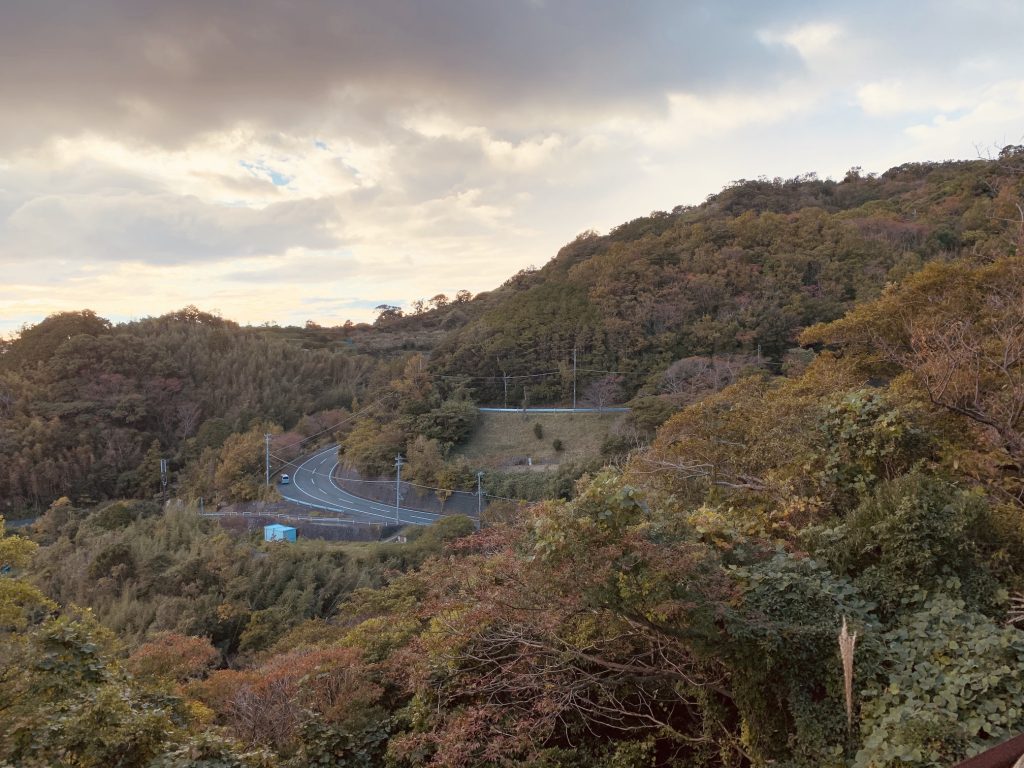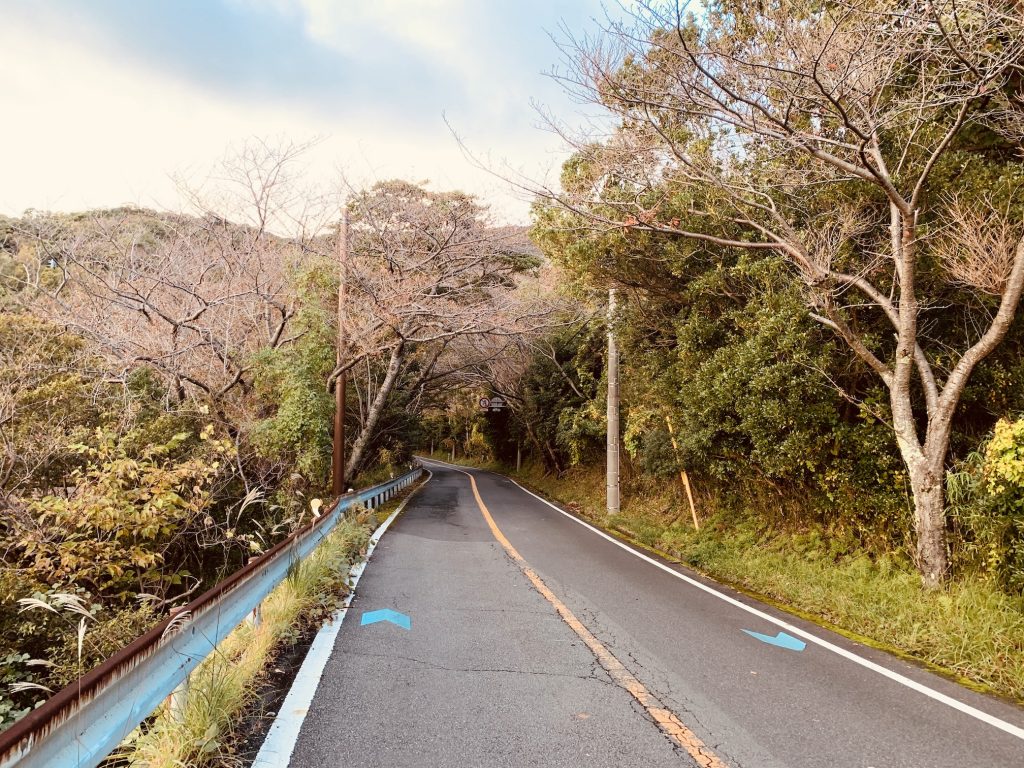 It was quite getting dark as I moved away from the Itoen Hotel, that I decided to go back. Sunsets during autumn can be as early as 1630. I went back ahead, but seems there's still light. I moved a bit further down south after reaching the hotel, in the hopes of meeting the rest of the group along the way. I've probably made 10 kilometers already of ascent, and there's still no sign of them. I was still able to get some scenic photos along the way.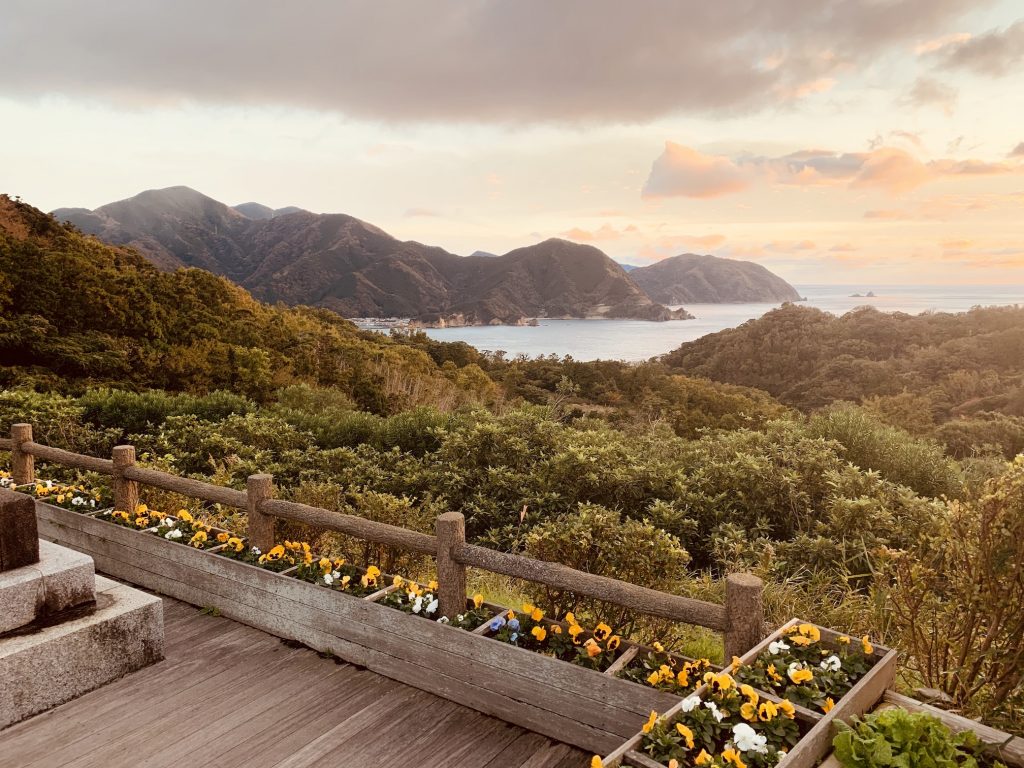 When it finally went dark, it was time to go back. Still no sign of the group, but I met Kei-san at the hotel lobby. He was kind enough to offer me some mikan (orange). The group then sent a GPS of the lead pack. We waited outside for them. It was Jun and Alex who arrived first. Then the rest followed.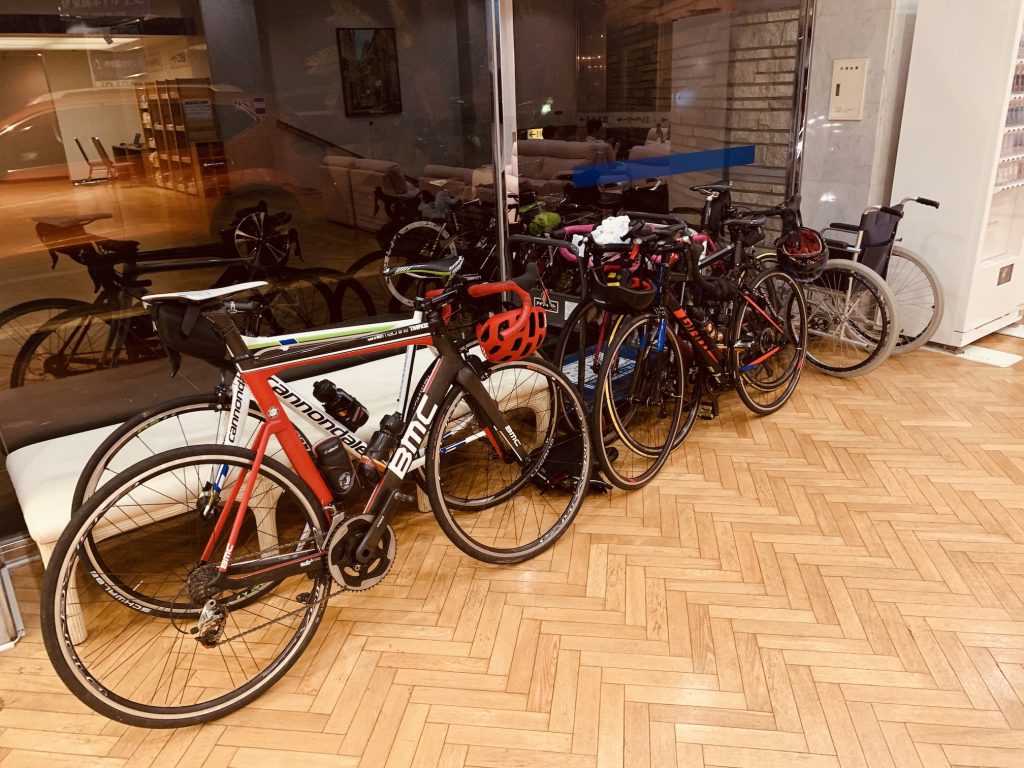 We checked in at our Ryokan rooms, parked our bikes, and then proceeded to the very sumptuous tabehoudai (eat-all-you-can) dinner. The hotel and food is actually pretty good for a price of ¥10,000!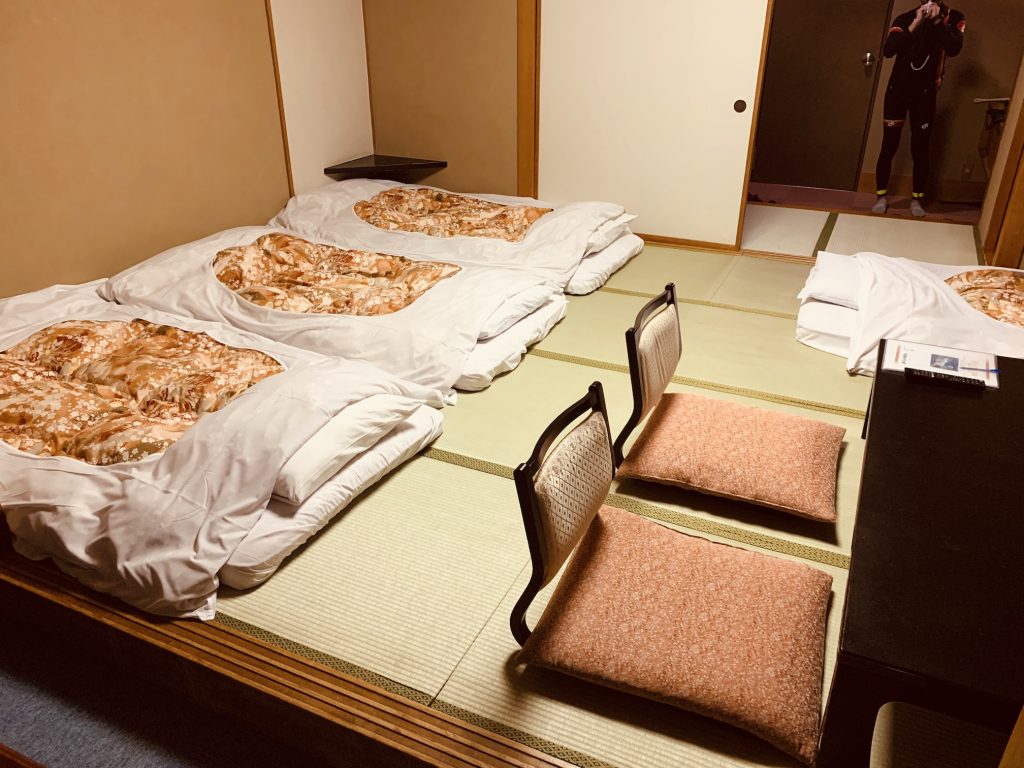 The following morning, we woke up early and suited ourselves up to catch the 0930 Ferry to Numazu. The rainbow was still present and the seaview from the room is marvelous. You can actually see Shizuoka from afar.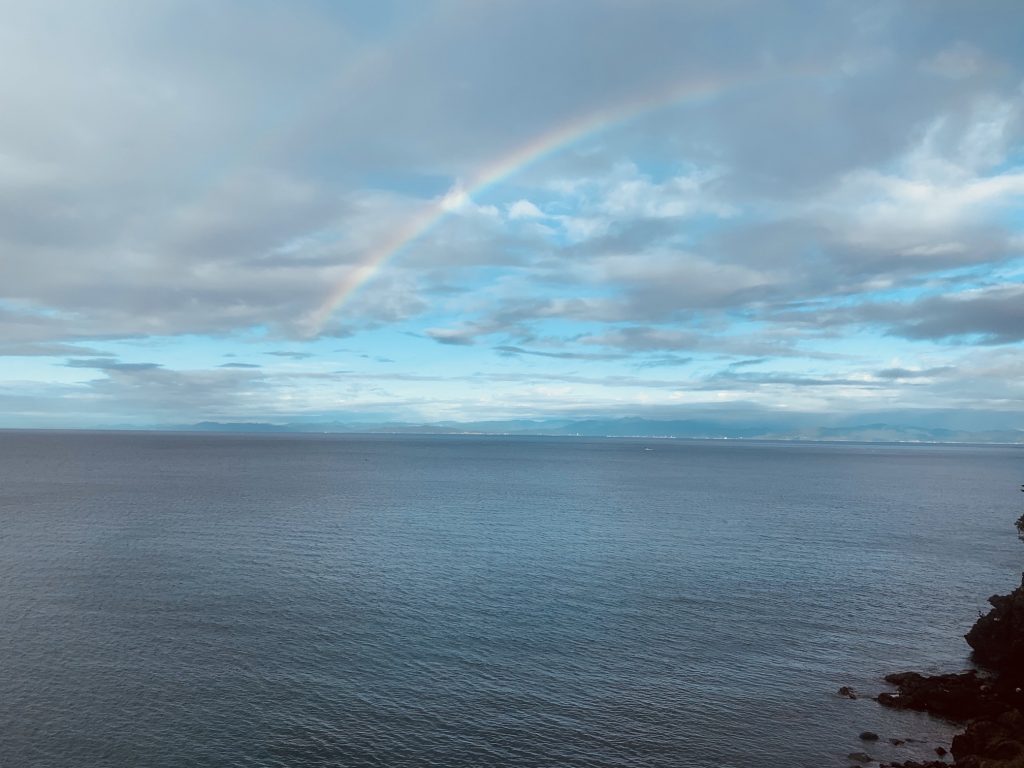 We arrive a bit early and lined up our bikes. There's an extra charge for carrying bikes, but probably less than ¥1000.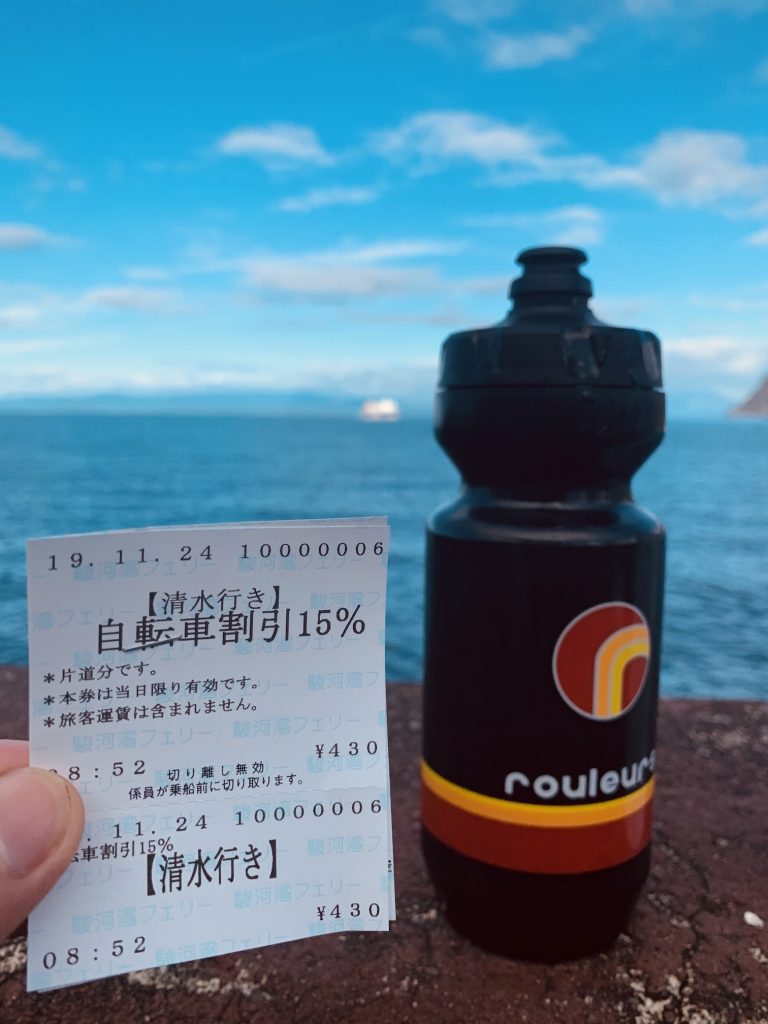 The ferry ride itself was very enjoyable. They were cooking some pancakes and other snacks. There was also a post office wherein you can send postcards to your loved ones. For me, I sent one to my girlfriend.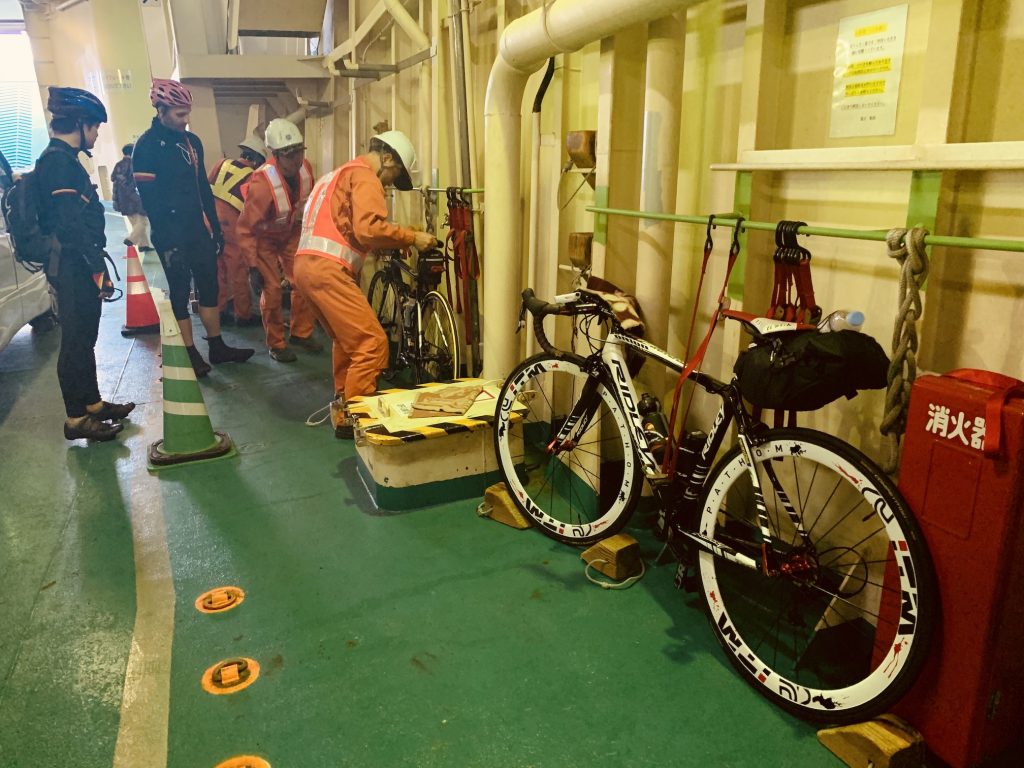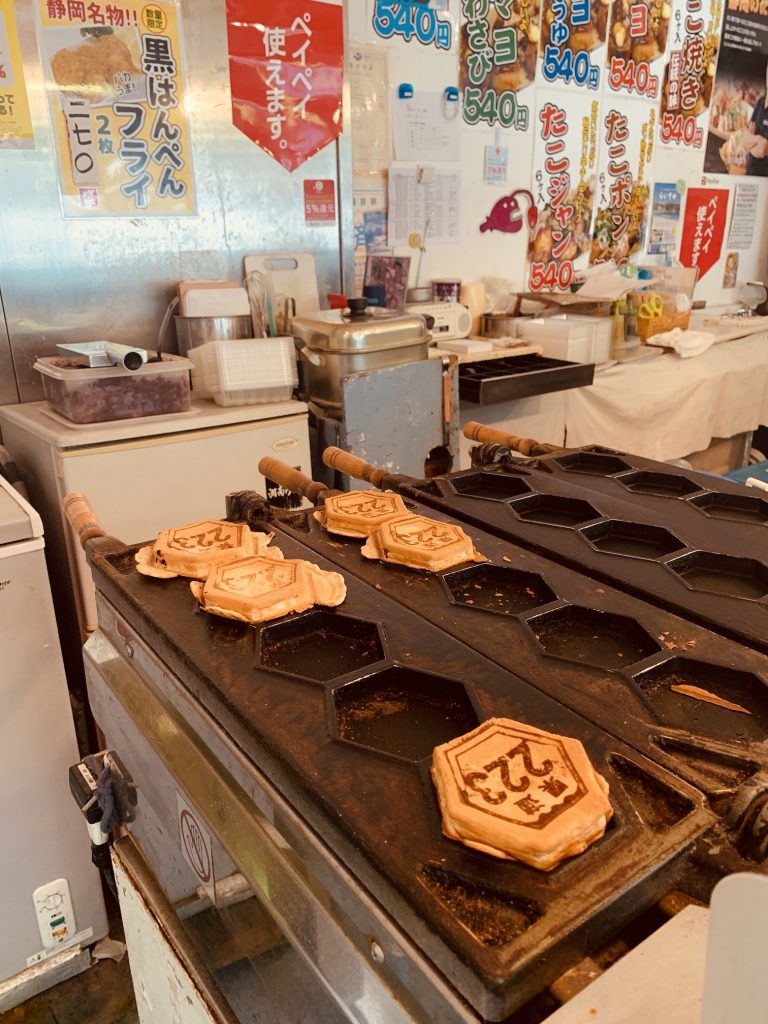 I was out the whole time trying to explore the ferry and enjoying the sea breeze outside. When I got back inside, the guys were having some good discussions, whilst some were dozing off and saving some energy.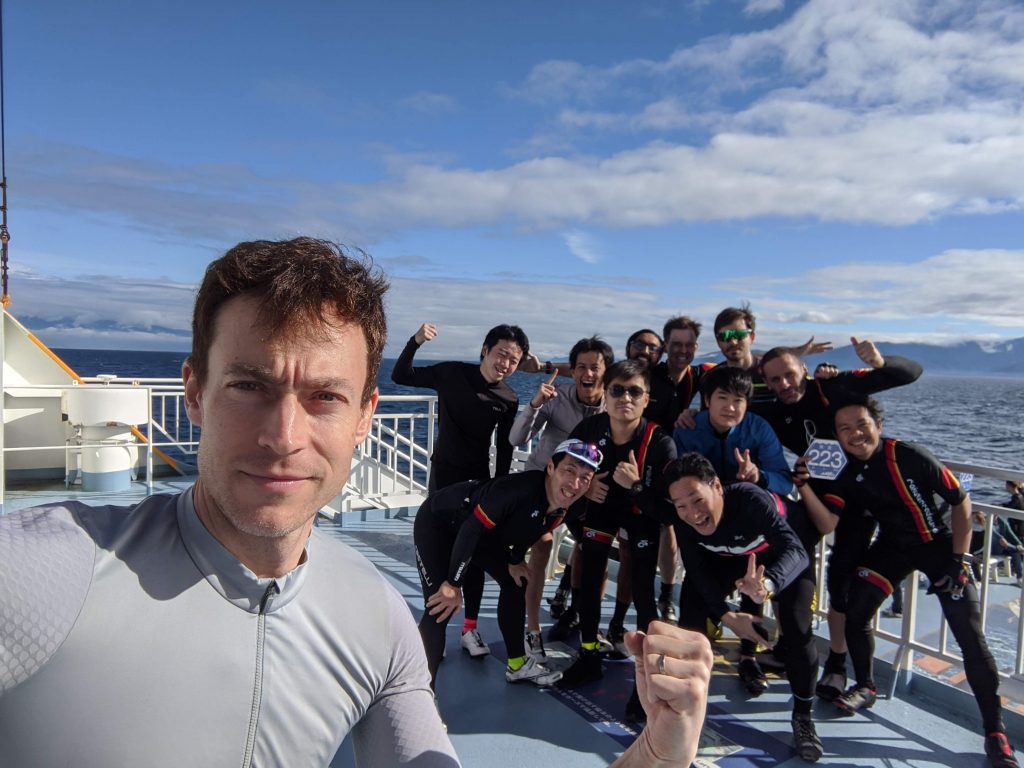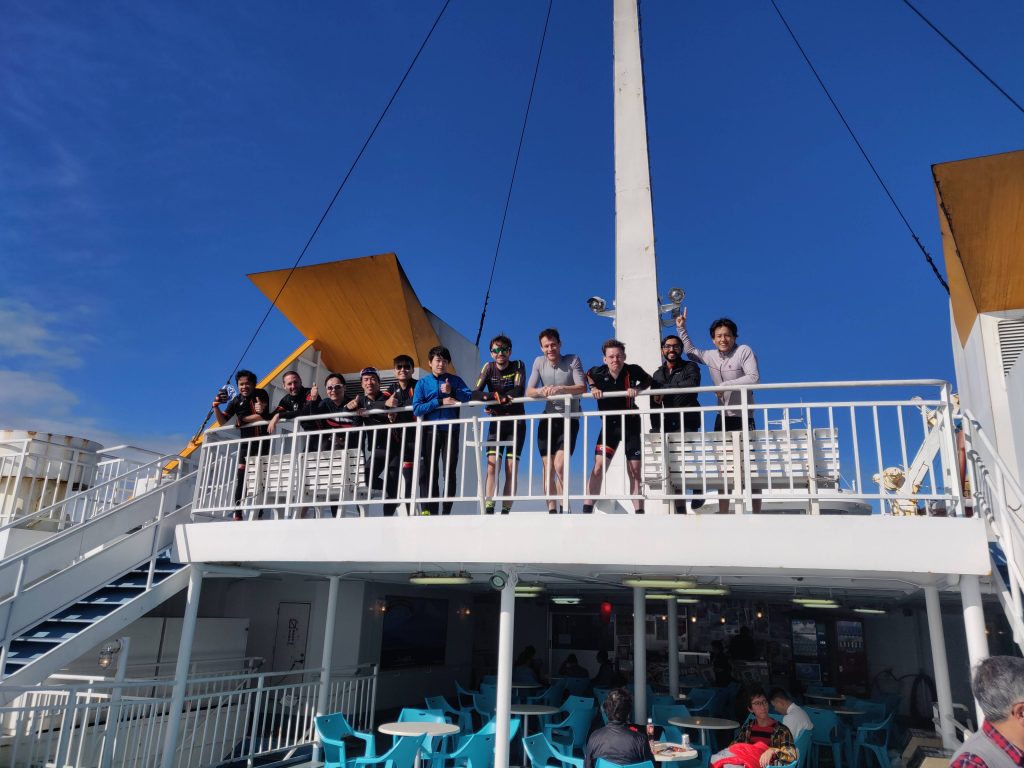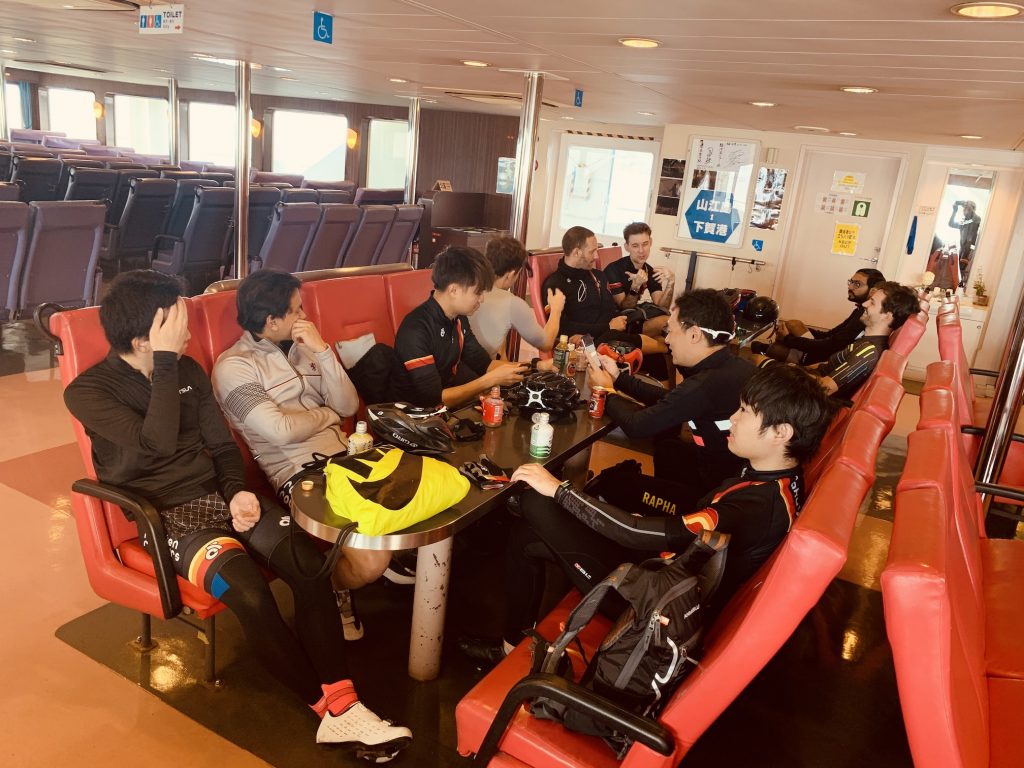 Upon arriving at our destination, we immediately rode out and bought light snacks at Lawson.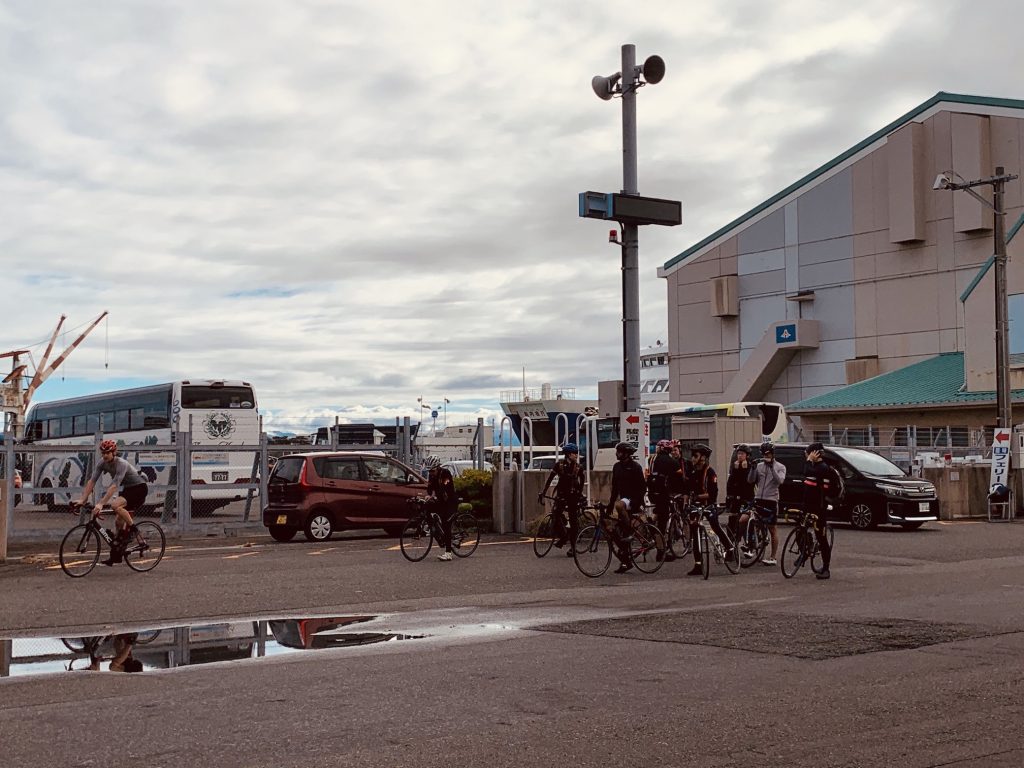 As soon as the group became ready, this is also the time that I won't be getting a lot of photos. When with them, they are really fast and probably not much time for photoshoot, unless it's official. So we rode out as fast as we could and I tried to catch up with them as fast as I can.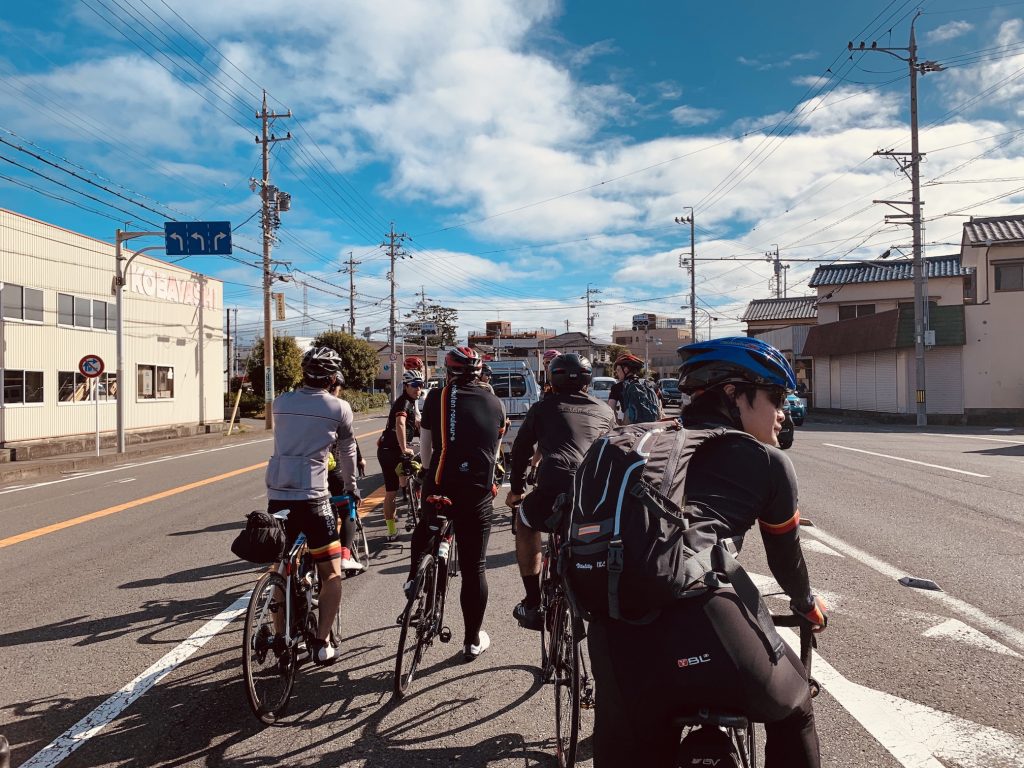 It was quite warm and a bit cloudy during the 2nd day. We never saw Mt. Fuji during the ferry ride. But along the way, we didn't notice that we can see her at the back. It was only when we stopped for a while that we saw her.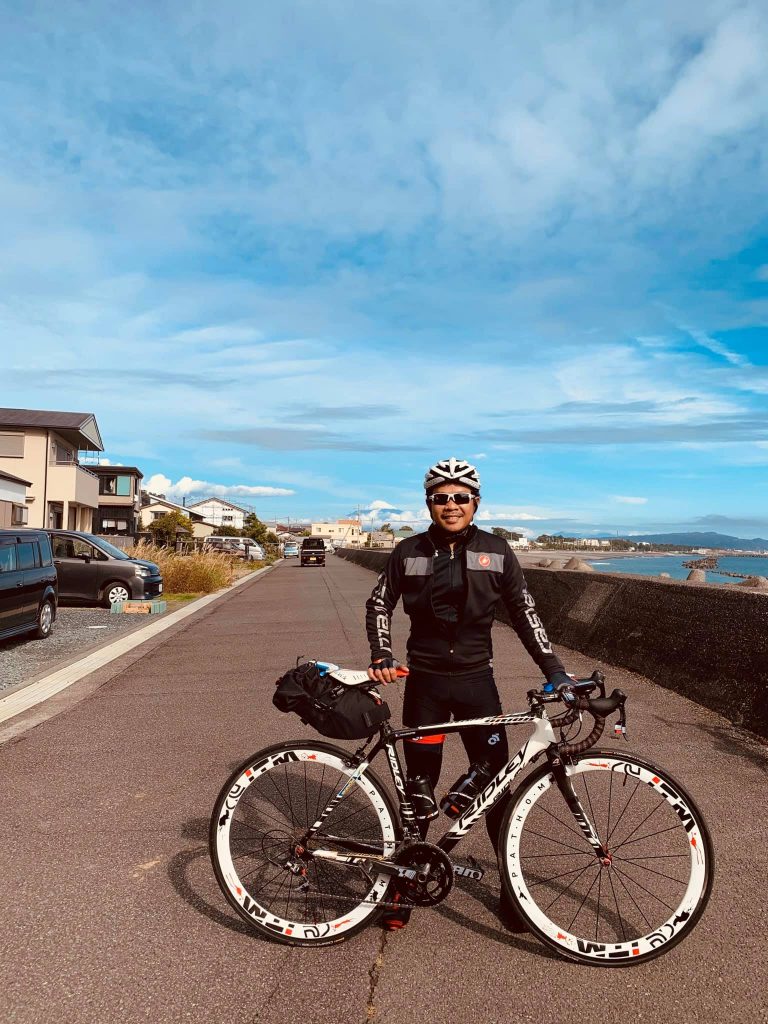 After this stop, it was one of the things that I dreaded the most. There's an almost 1km long tunnel. I was already planning on how to circumnavigate it by passing to another road. Good thing there was also one Rouleur who was with me so I rode along with him to ward off my claustrophobic anxieties. Luckily I survived and made it out!
Another thing that I'd like to highlight was how I almost got into an accident with a long truck. We were crossing bridge and were all aligned in one single clean line. The problem I also see with vehicles in Japan is that most of them are very quiet. When a veeeeery long delivery truck passed by me, I panicked. It really crossed my mind that "Oh my, I think I'm gonna get hit, run over, and die." I veered towards the left side only to hit the high gutter. I knew by the sound of it that something on my bike is already getting damaged. Running at about 30km/h and hitting the gutter sure can get enough damage. But I didn't care, I just wanna be alive and avoid getting hit by the truck. By the time it passed through, my crankset got damaged already. The spokes on my front wheel also had its own damages.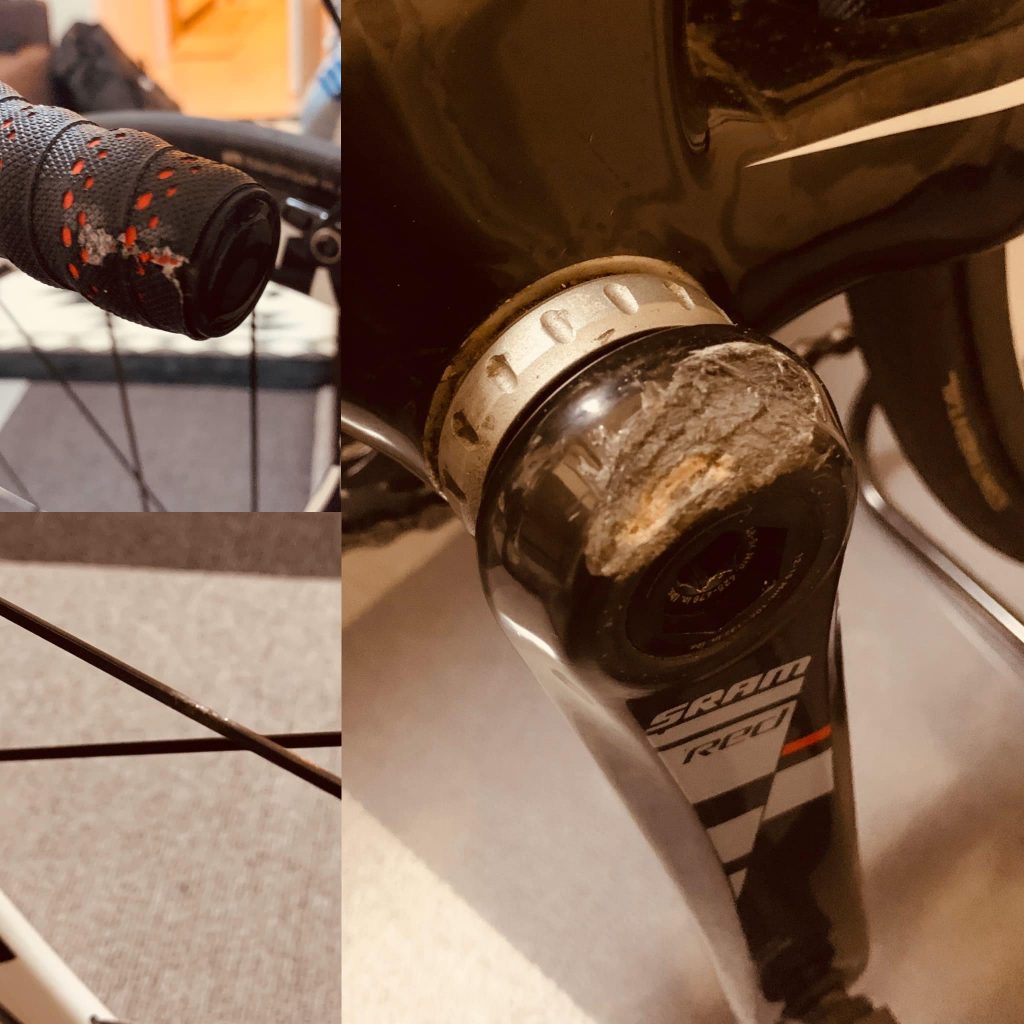 Also after some unfortunate circumstances, we have to cut short the ride and bail off. We still had about 40km left from expected destination. The group went on a shortcut and passed through the hills of Shizuoka. Now, I regret not taking photos of the sceneries. It was a really beautiful place. The long stretch of green tea plantations was stunning!
You can expect to see a scenery such as the above. It was really amazing, and I hope to visit this place again taking the ride slowly and enjoy the view.
We arrived at Kikugawa station, took the local train to Kakegawa station, and then rode the Shinkansen back to Shinagawa.
I enjoyed this ride and I we get to do this again next year, and hopefully finish the route!
If you are interested with the route, check out my Strava ride:
Suruga Bay Tour – Day 1
Suruga Bay Tour – Day 2