Strengths Finder 2.0
My manager gave me a book entitled "Strengths Finder 2.0" by Tom Rath. I don't know what it is but the first order of business is to answer some questions on the website in order to determine your Top 5 Strengths. The survey was quite long and the questions are situational and it is possible that you will agree with both statements. However , you only need to choose what's best. In my case, I just chose the first thing that came in my mind.
Below are my Top 5 results: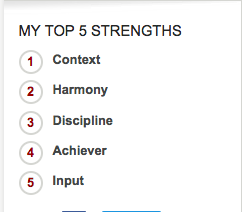 Context – People strong in the Context theme enjoy thinking about the past. They understand the present by researching its history.
It's true though. I really like reading about history and auto/biographies. Whenever I'm in a new place, I would be more interested on the history and culture rather than the tourist attraction. When I went to Berlin, I made sure to visit the Topography of Terror. The same was true when I went to Hiroshima, I made sure to visit the A-Dome at the Hiroshima Peace Shrine.
Harmony – People strong in the Harmony theme look for consensus. They don't enjoy conflict; rather, they seek areas of agreement.
I didn't know why this popped out as my Top 2 strength because I don't really care if there's conflict on a situation. I think it popped out because I am lethargic when it comes to people debating and arguing especially during meetings. I just want things to be settled.
Discipline – People strong in the Discipline theme enjoy routine and structure. Their world is best described by the order they create.
Lately though, I lacked discipline especially when coming to work on time because I'm always 5-30minutes late. However, I don't box myself as undisciplined just because of tardiness at work. The discipline here maybe is because I pretty much enjoy routines and structures. I am open to changes and spontaneity though but my work as a Software Engineer really entails a lot of focus and concentration. Any distraction up ahead would really break my momentum and it's difficult to be rewired again.
Achiever – People strong in the Achiever theme have a great deal of stamina and work hard. They take great satisfaction from being busy and productive.
It's party true. I enjoy working really hard and I receive satisfaction whenever I get to finish tasks at work. Even it there's already burn-out, the sensation of being able to contribute to the team really helps boost my confidence and ego. The corollary here though is to never get burn out otherwise your health would be compromised.
Input – People strong in the Input theme have a craving to know more. Often they like to collect and archive all kinds of information.
I have an insatiable thirst for knowledge. Well, for some knowledge already which I think are useful and interesting to me. I like to learn a lot not only about technology but also about other people (eg. behaviour, culture, history, etc).
I don't believe that a person can be boxed based on these results but I think it's a good start to better understand yourself and the people you are working with. I hope there's a free online test for Strengths Finder so that everyone can take and check their own. I don't think I'd be able to finish reading the book but I'll try to skim through it from time to time.