Sakura Avenue
Last weekend, I went to the Miurakaigan Cherry Blossoms Festival. I heard about it in our office cycling club and that some members are actually riding. But for me, I went there with my girlfriend in the morning. We left Kawasaki around 9am and probably arrived 10am-ish in Miurakaigan station. The trip itself was seamless as it is just Keikyu line so we didn't have to transfer. I brought my bike with me, disassembled and packed in a Rinko Bukuro (リンコブクロ) or simply just a bike bag. The train staff will not let you enter if you do not disassemble and put your bike in a bag. It can also be very inconvenient for some people inside the train so be mindful when doing this.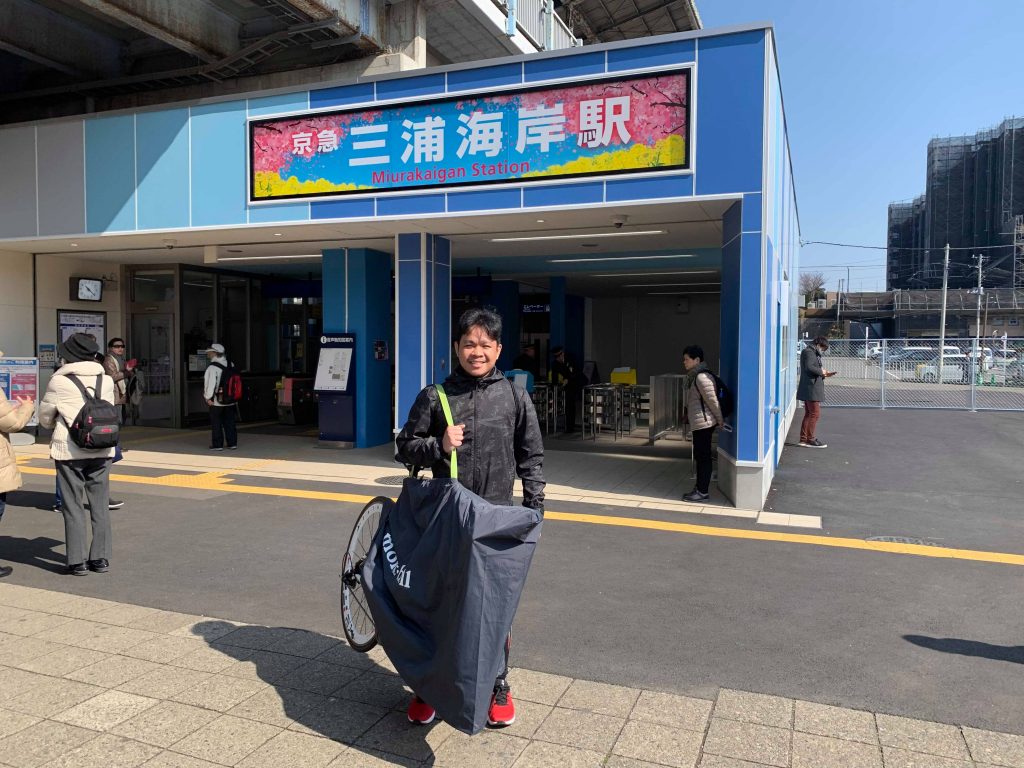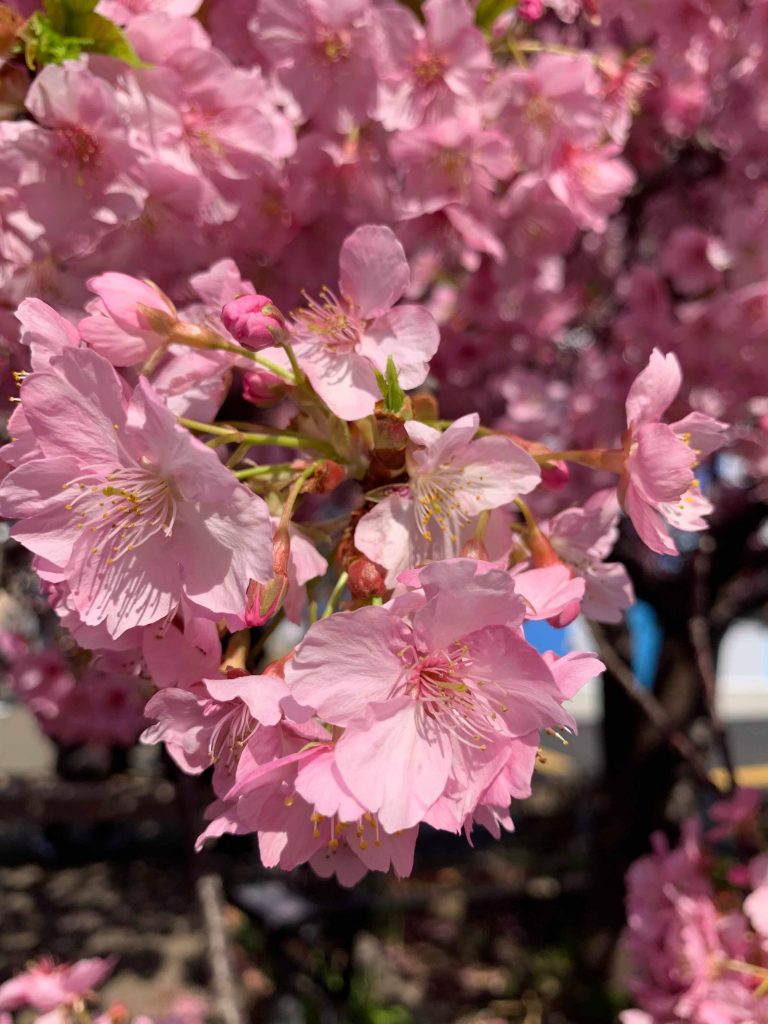 When we got out of the station, we were welcomed by a fully-bloomed Sakura tree right outside the station. It wasn't that crowded yet and the girlfriend was busy checking out pamphlets about the festival, while I took some photos and assembled my bike. The town's specialty is Maguro (Tuna). There was a little food festival outside the station too. We tried some shops before heading to the venue.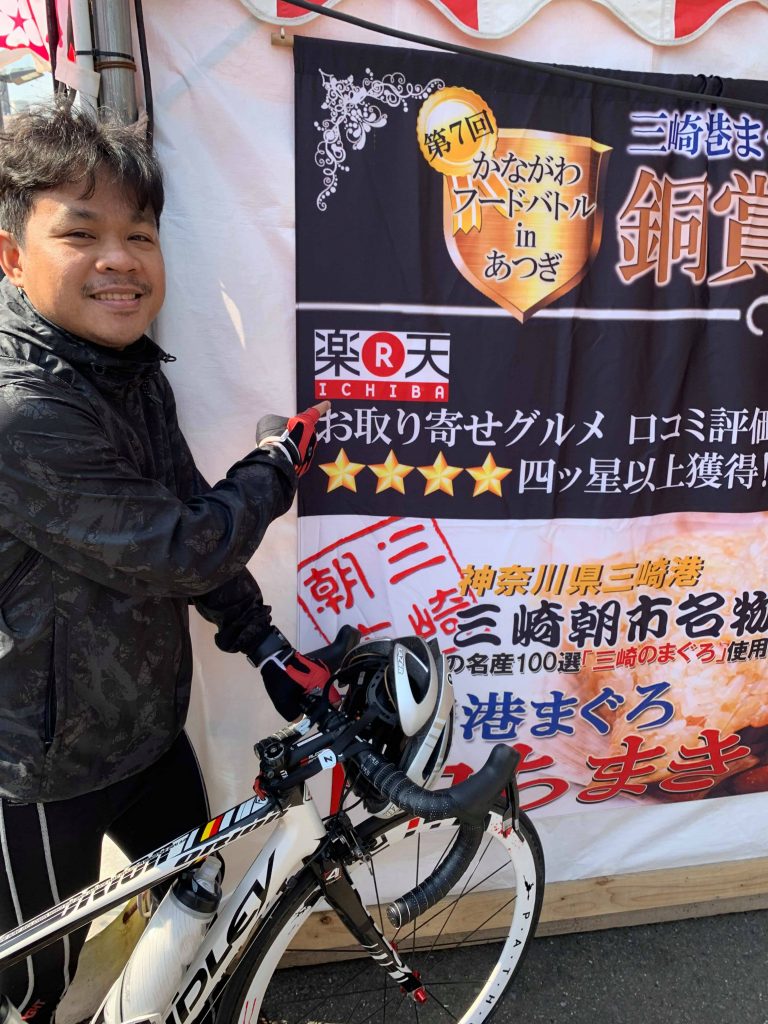 The festival site was about 15 minutes walk from the station and people started to flock already. I felt uncomfortable actually brining my bike altogether with the sea of people marching towards the site. Seems like I was being an inconvenience to them as my bike almost takes up some space. It was hard since the sidewalk was really too narrow.
The site itself was very majestic to look at. It was like an endless walk of Sakura trees! I could imagine the time and effort that the people of Miurakaigan put into these masterpiece. It was a very perfect timing for us because that day was the 2nd to the last day of the festival, and the weather forecast during the last day was rainy.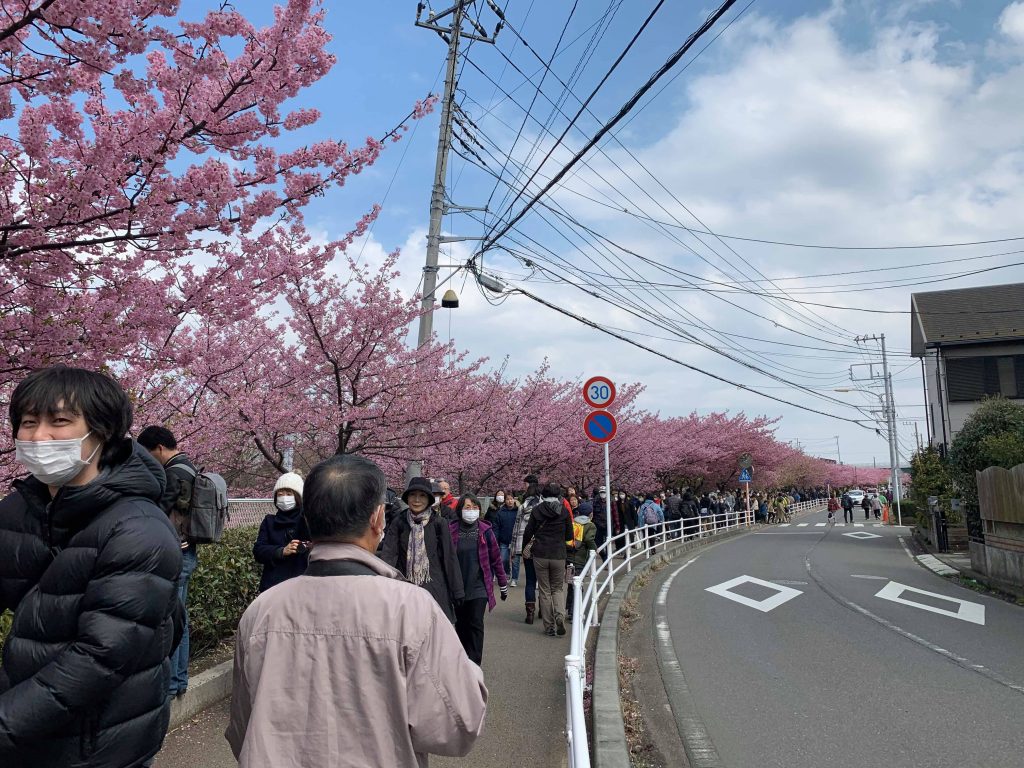 We ended up at Kakigasu Park because I needed to use the bathroom. We also took some photos of ourselves on this park because even if it was crowded, it was spacious enough. There were also some Obachans and Ojisans having a great picnic time. The Nabe food that they were cooking smelled really good!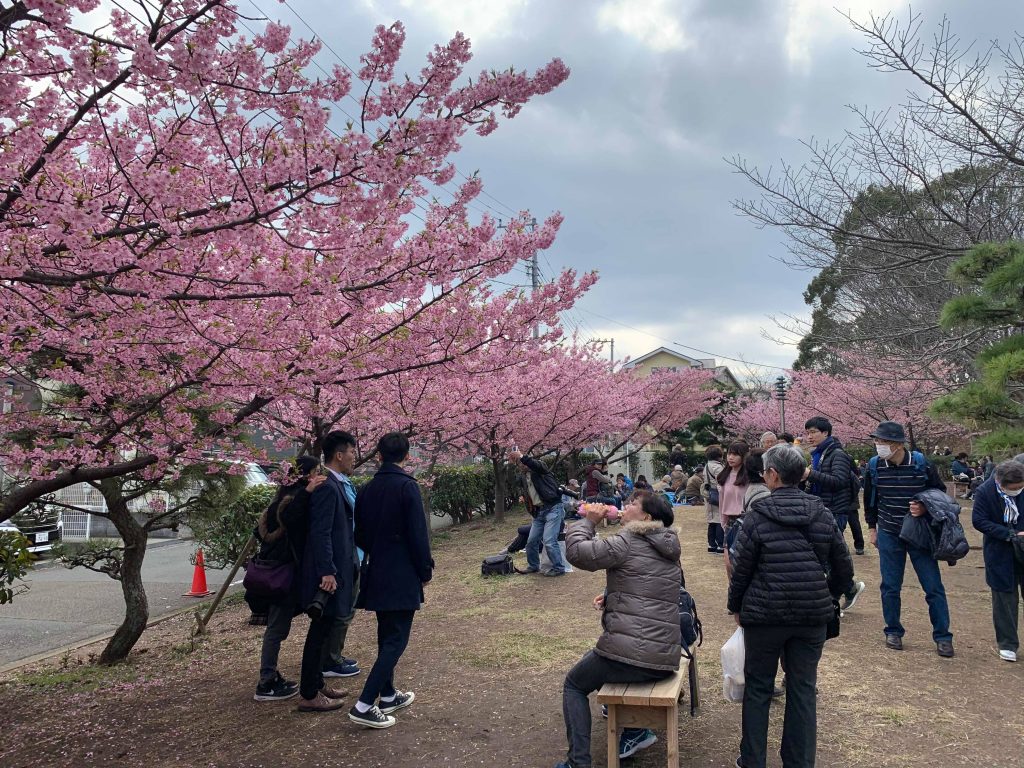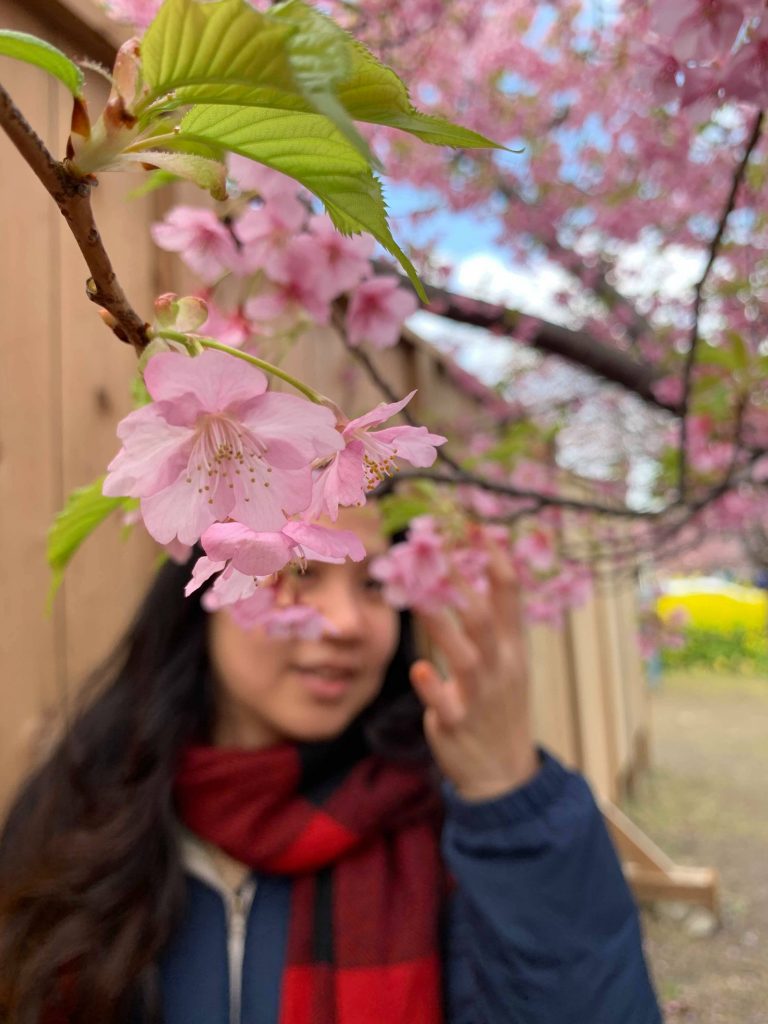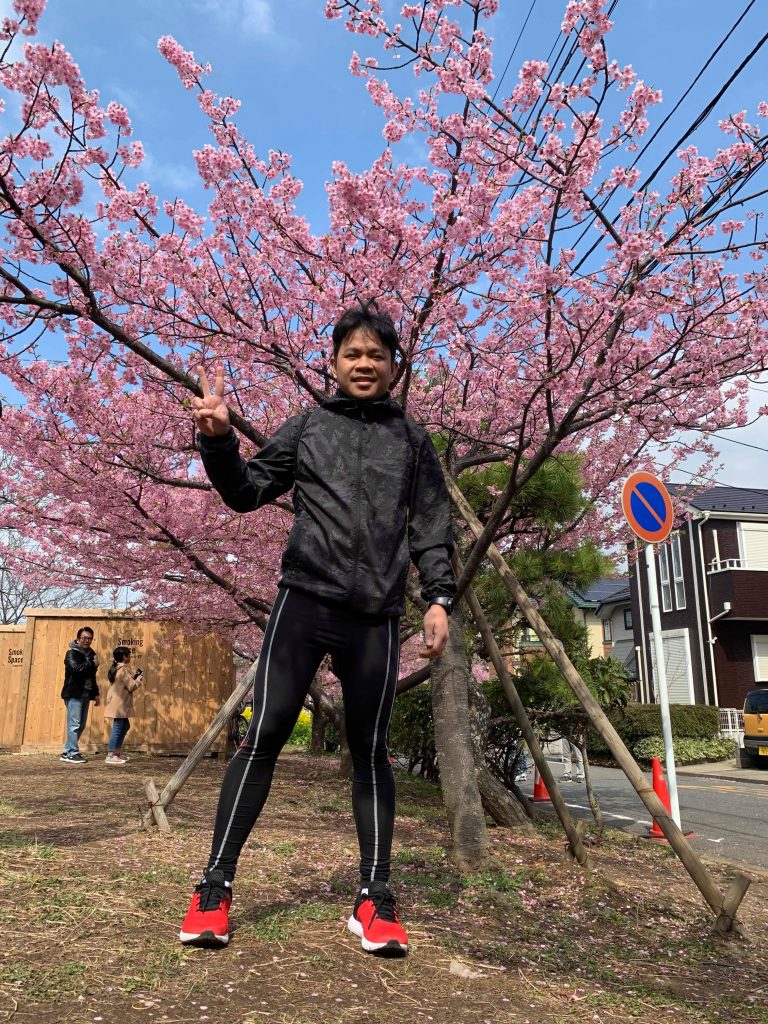 We also met a dog named Nana in this park. She's 10 years old and the lower back portion of her body is already paralyzed after she got sick. She was such a sweet and loving dog, and she allowed me to pet her like a cat!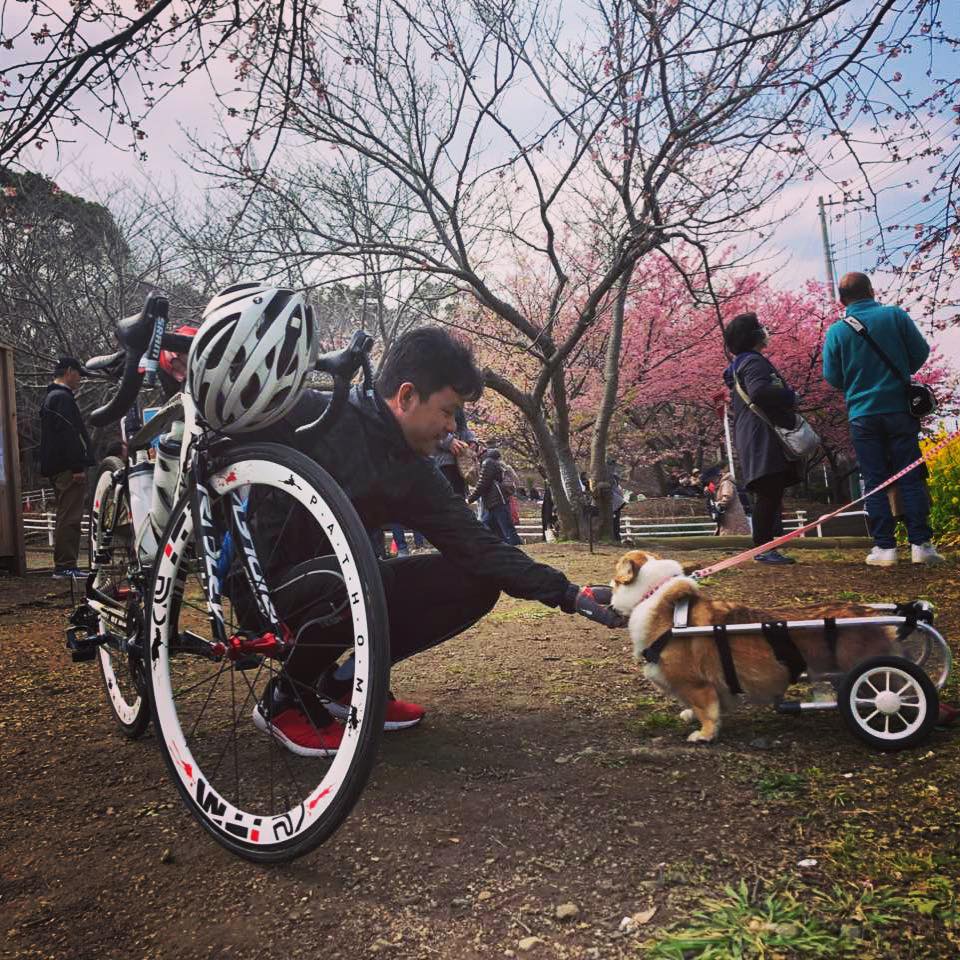 I send off Jenny back at the station because she needed to go somewhere with friends. I also have to start my cycling already because it's 12 noon and I want to finish the Miurakaigan-Jogashima Loop as early as possible.
Miurakaigan-Jogashima Loop
The route was forwarded to us via Ride with GPS app. It's not a free app, but I subscribed to the monthly one just for this ride. It was my first time to use the app and I was having a hard time where and how to start. I was finally within course and I started my cycling journey. The route traverses back to the site venue. It was only after I passed by Misakuguchi station that things began to not go well. I enjoyed the downhill too much that I actually missed a left turn. I ended up on a dead-end shore by the beach, and it made me check my GPS again.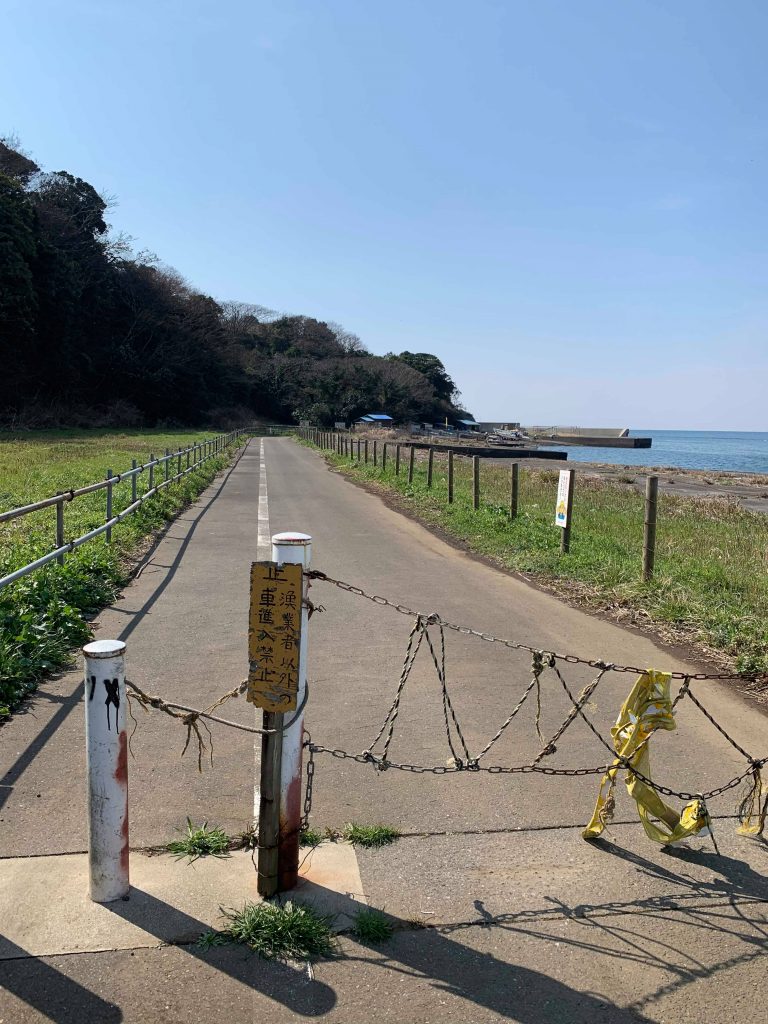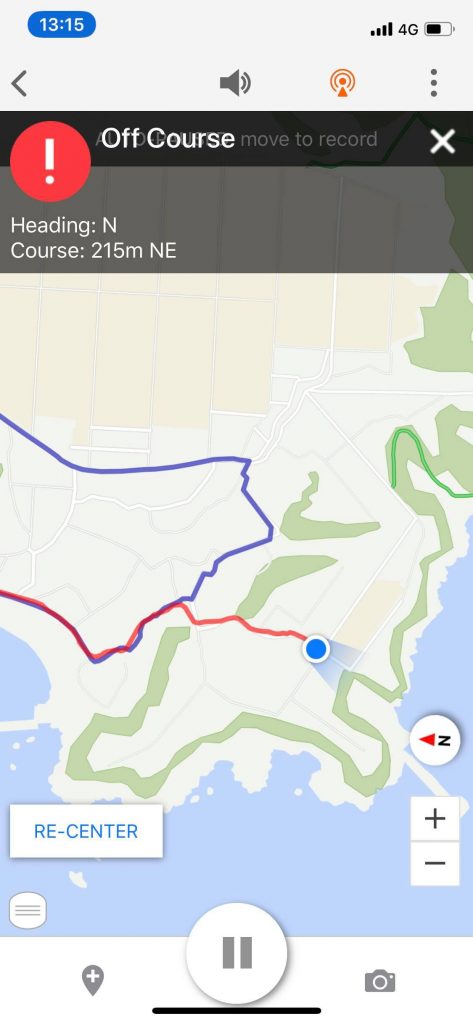 But the laziness in me wanted to go to some shortcuts. There was no road in the GPS, but I wanted to take a shortcut. Probably just carry my bike on the bushes. I think I trespassed at someone' property because I thought it was an open space but it was actually someone's backyard. I kept bowing whilst walking in case someone sees me on the CCTV! I ended up backtracking, but I don't want to climb that uphill again. So I took another shortcut. I heard a truck passing so there's probably a road leading back to the course. And then… it was an uphill road! I probably couldn't climb it as it was literally 45 degrees and I'm not even 1/4 the ride. The view from below was a buddhist cemetery and I could smell the incense. At the top of the hill, it was a radish farm. A wide radish farm. At least I'm back on track!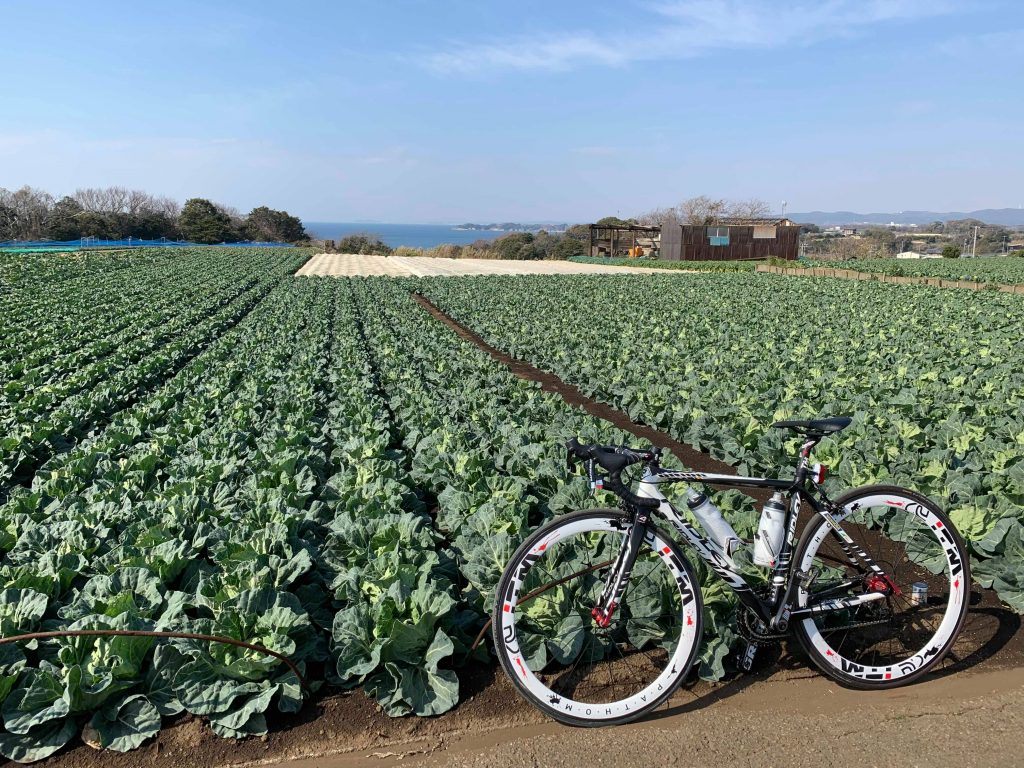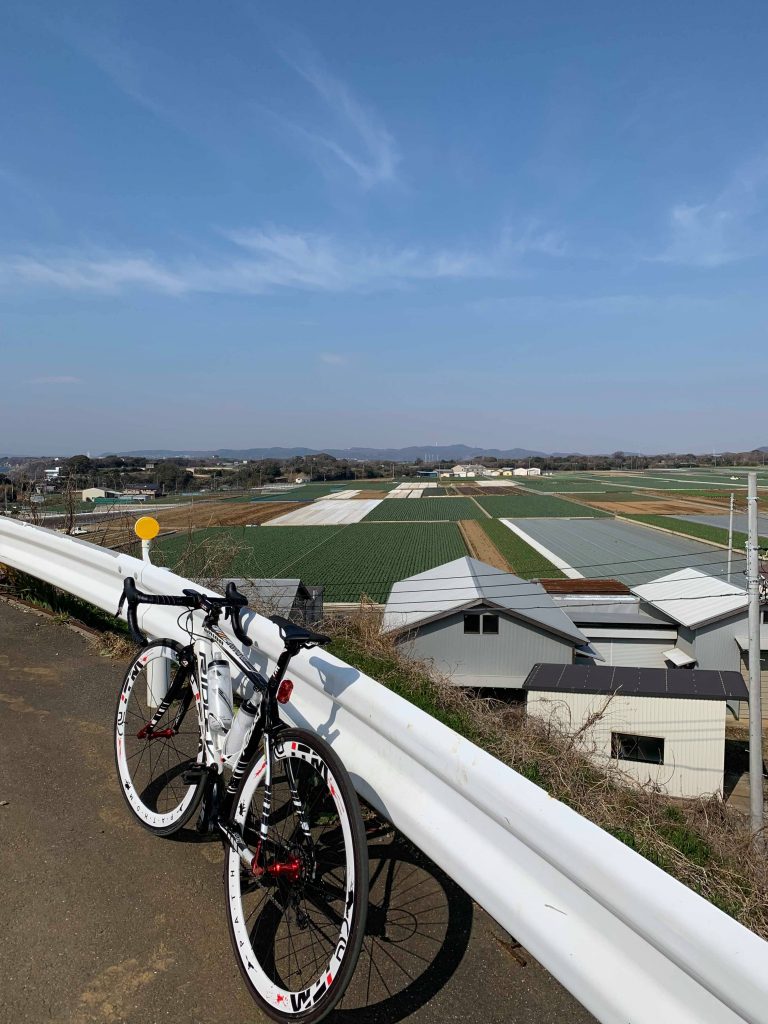 After descending the hill, the road was curvy and quiet. I could only hear the wind and it started to became chilly and lonely. I forgot to fill my water bottle and thought to myself that I would probably collapse due to dehydration. But alas, a warehouse with a vendo machine! I immediately refilled my water bottles. The caretaker was also very kind to allow me to use the portalet. He was asking me questions in Japanese. Probably either asking where I'm from, or where I'm heading to. The only thing I understood was he said that the weather was great.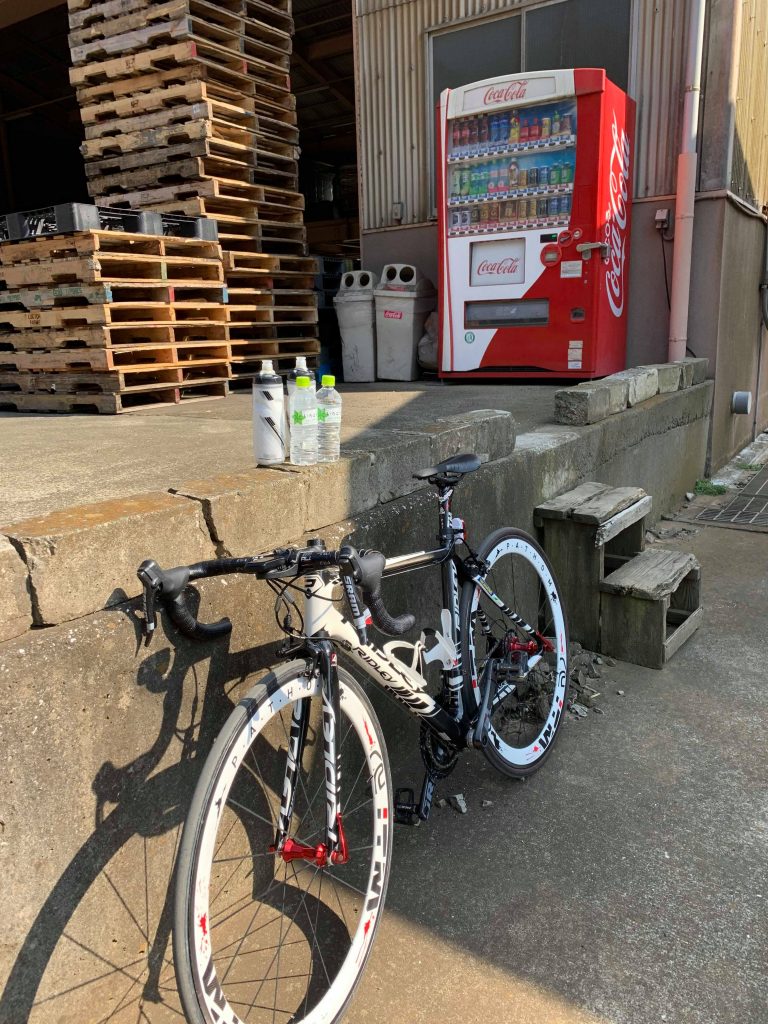 The road after this was leading back to the city. I already saw incoming big motorcycles and fellow cyclists. Some random sports car too, but too lazy to take a photo. It was a boring ride, until I found myself traversing through several small alleys. It's literally like small narrow streets and I felt like I'm disturbing the tranquility of the neighborhood. The road leads down to the shore already. I could already smell the sea air.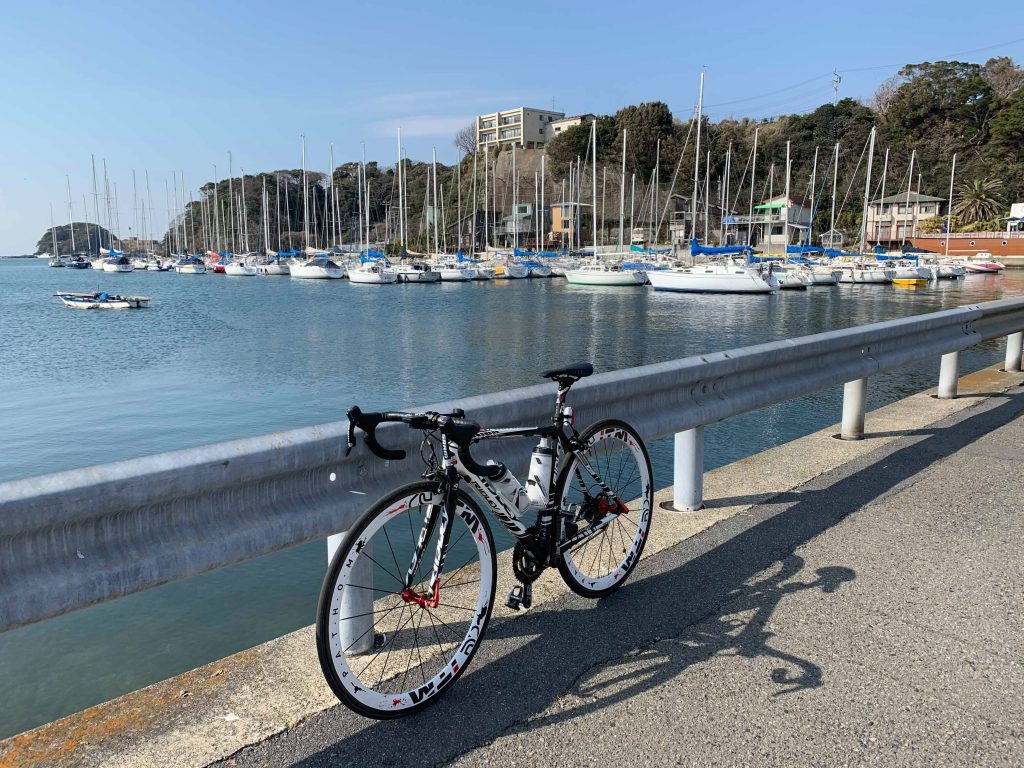 I only saw one cat during my ride and he was so chubby I could die die die!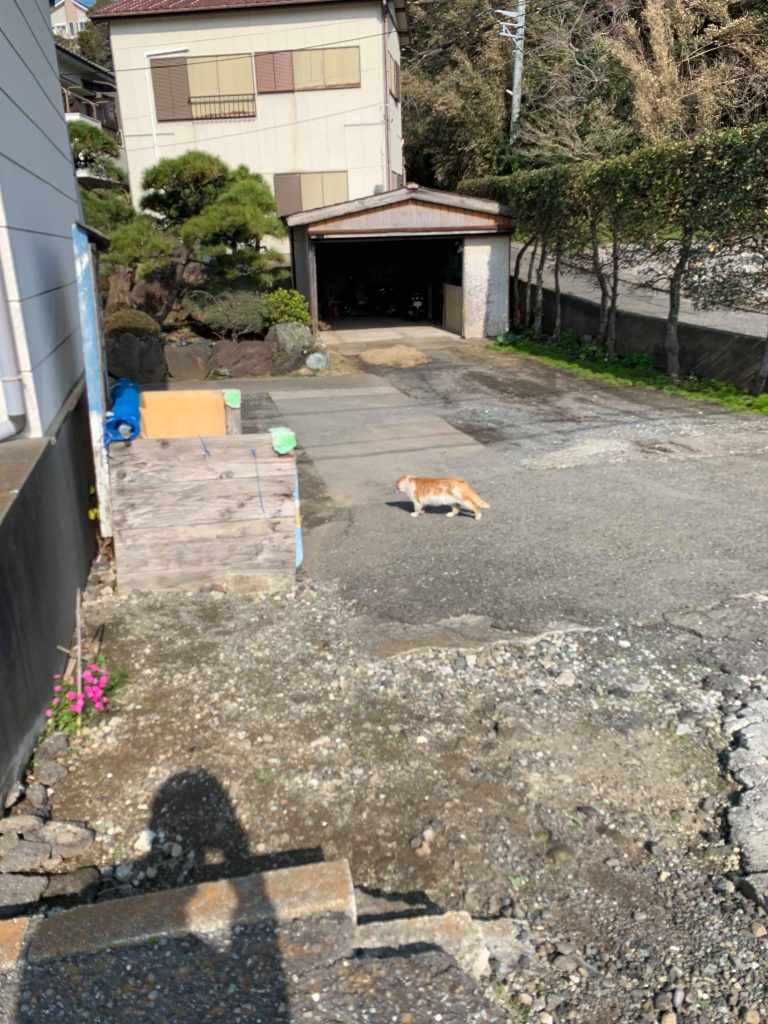 I already saw the Jogashima bridge, but it's high and probably another ascent going up the highway bridge. I missed another turn, but at least it pads up my distance traveled.
There's no toll fee for bicycles. The toll staff was even kind enough to mutter the words "ki wo tsukete (気をつけて)" which means "Please take care."
I stopped in the middle of Jogashima bridge for some sight seeing. There wasn't that much cars passing by, only a few pedestrians and fellow cyclists.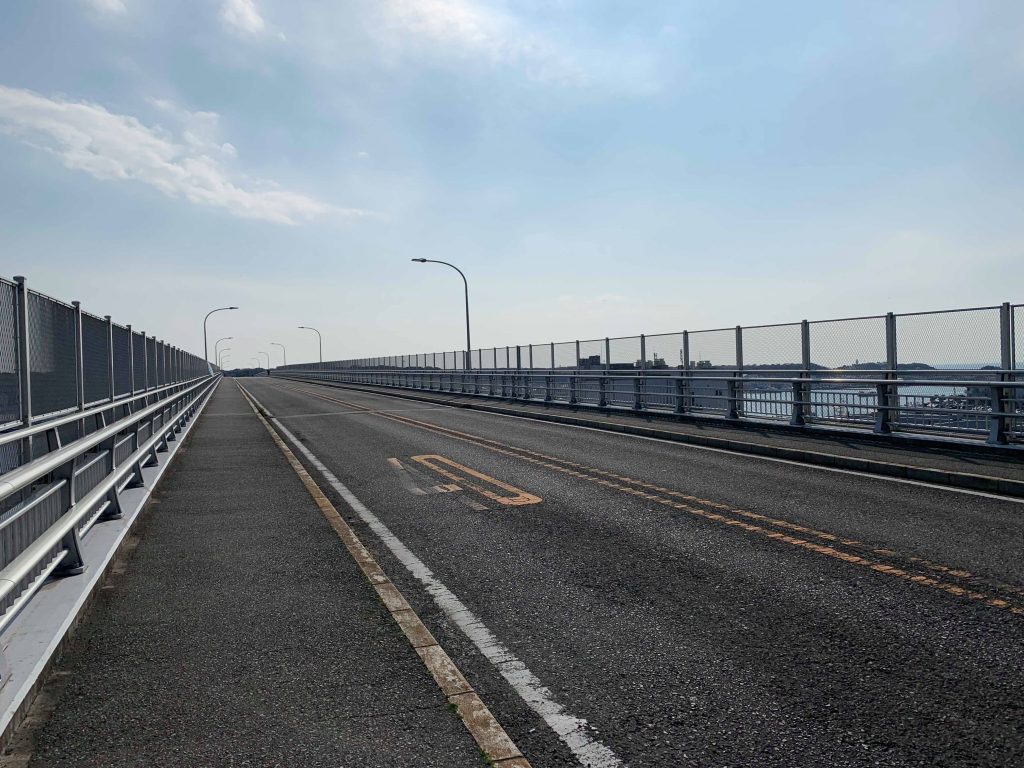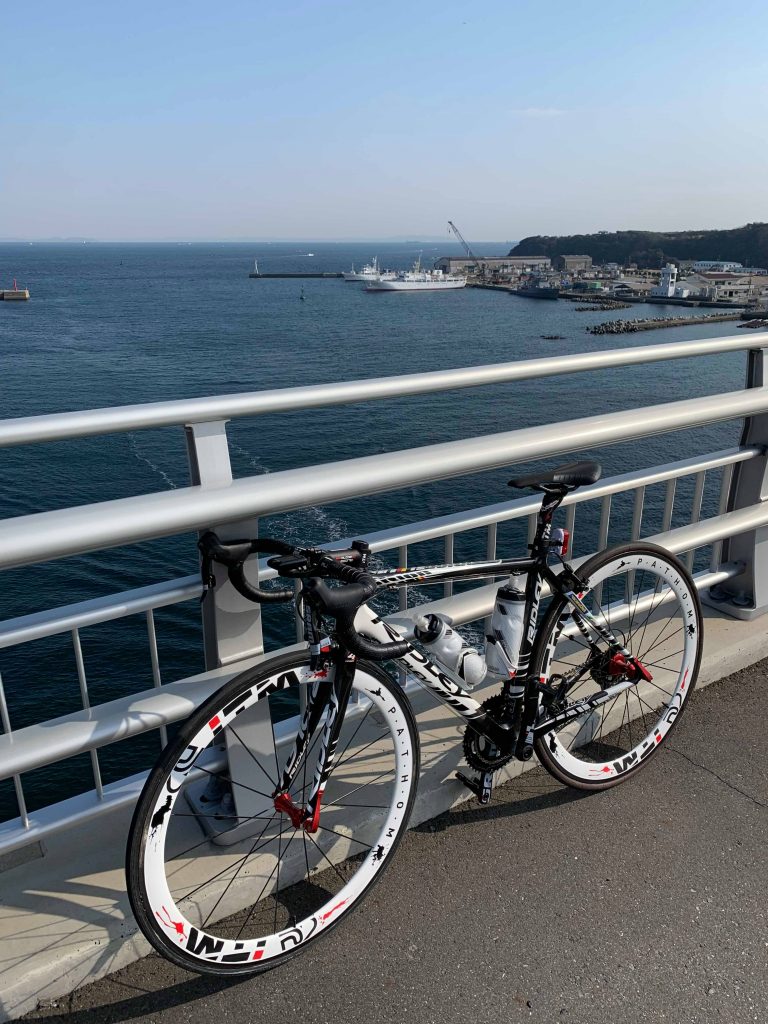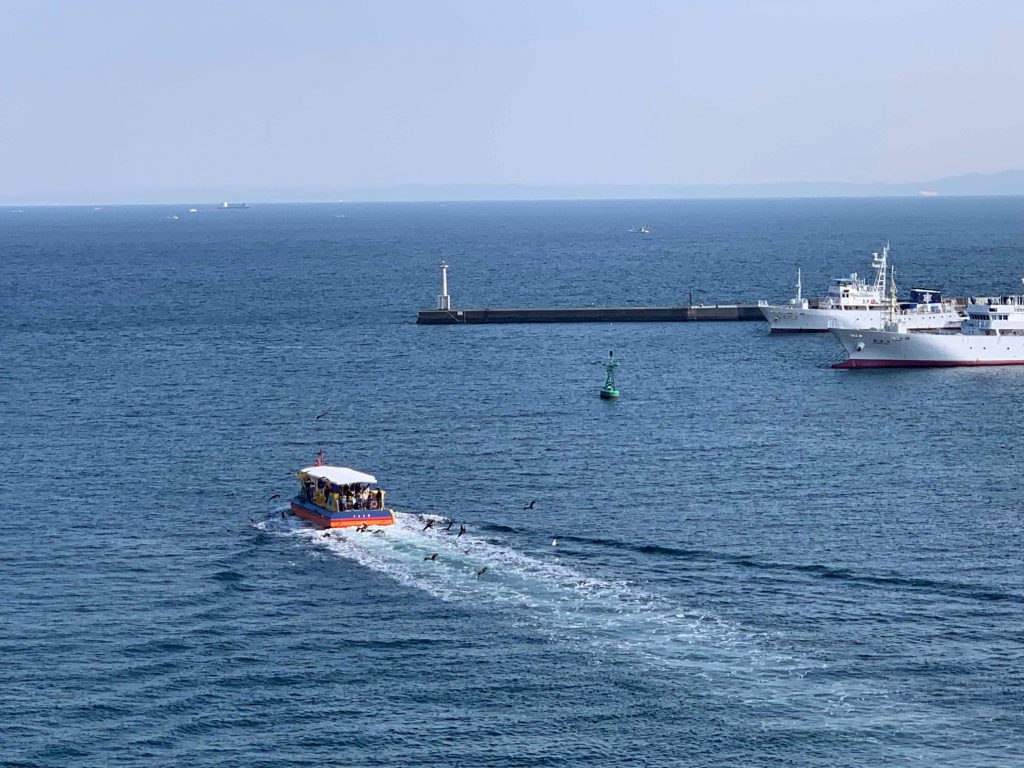 Upon arriving at Jogashima island, there wasn't that much offering to be honest. Most shops and restaurants were closed. But for some reason there were a lot of tourists and buses. This was also the part where I intentionally passed over a route. I regret not going there because it was Jogashima park and the view or place would probably do justice. Maybe.
After Jogashima island, there's another ascent. It was this segment that my ride because lonely, cold, and scary. The wind was really strong and I felt like my outfit could not take it. I was literally chilling and every time bad thoughts comes, all I could think and probably sing while cycling was the song "Osameru Shu" in the song "Overcome the World" by ENCS Music.
I'm sure that despite the cold weather, Jesus will cover me with his protection and traveling mercies, which he did!
When I finally crossed that lonely segment, I saw a convenience store and I decided to eat. I bought Pocari sweat and katsu bread. They don't have these lunchbox meals that we have back in the city. I rested for a bit before proceeding.
I did't know that after the convenience store, it was an ascent. I struggled and I got thigh cramps in the middle that I had to sit down in the middle of the road. Motorists always look at me and check if I'm okay so I usually just smile when someone passes by. The song still keeps on playing inside my head. Because I know that if there is an ascent (hardships), there would also be descent. The descent downwards back to the city was so steep. I think I hit my max speed for this ride at 42-ish km/h. I could go faster but every time I hit a curve I hit the brakes. The road is also leading again to the shore. When I reached the bottom, I knew it was all flat already because the route is just beside the shore. I stopped by in one beach to chill out and feel the sea breeze.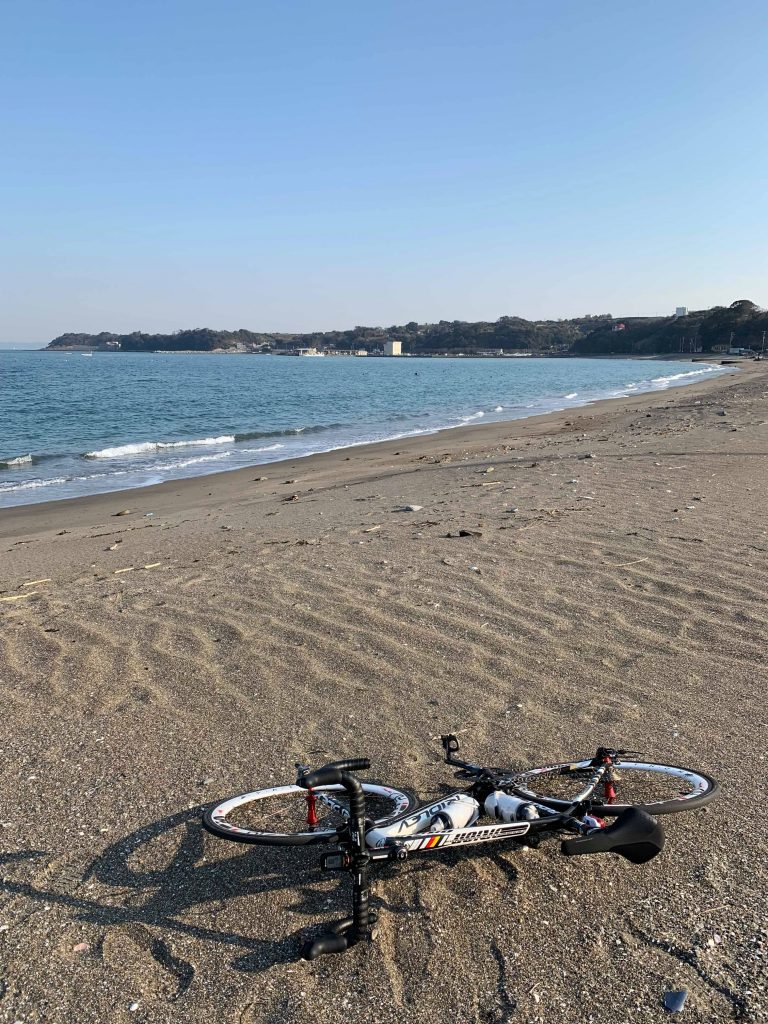 I have completed the Ride with GPS route given by the club. But it felt like I could still do more and hit extra kilometers. I went up again the Festival venue and took videos and photos, went back to the station, and still felt I could do more. I decided then to ride from Keikyu YRP station instead of Miurakaigan station.
I like this route very much. It was a beginners route with easy to medium ascents. Well maybe just easy. But it was a fun weekend activity just to get away from the busy city life.
Thank you Miurakaigan for the opportunity to witness the Cherry Blossoms on their full-bloom glory, and for the beautiful sceneries. I will be back for sure!
Illumination

This is no longer part of the day, but we went back again to Miurakaigan after church to witness the illumination. It was drizzling and freezing, but we braved it.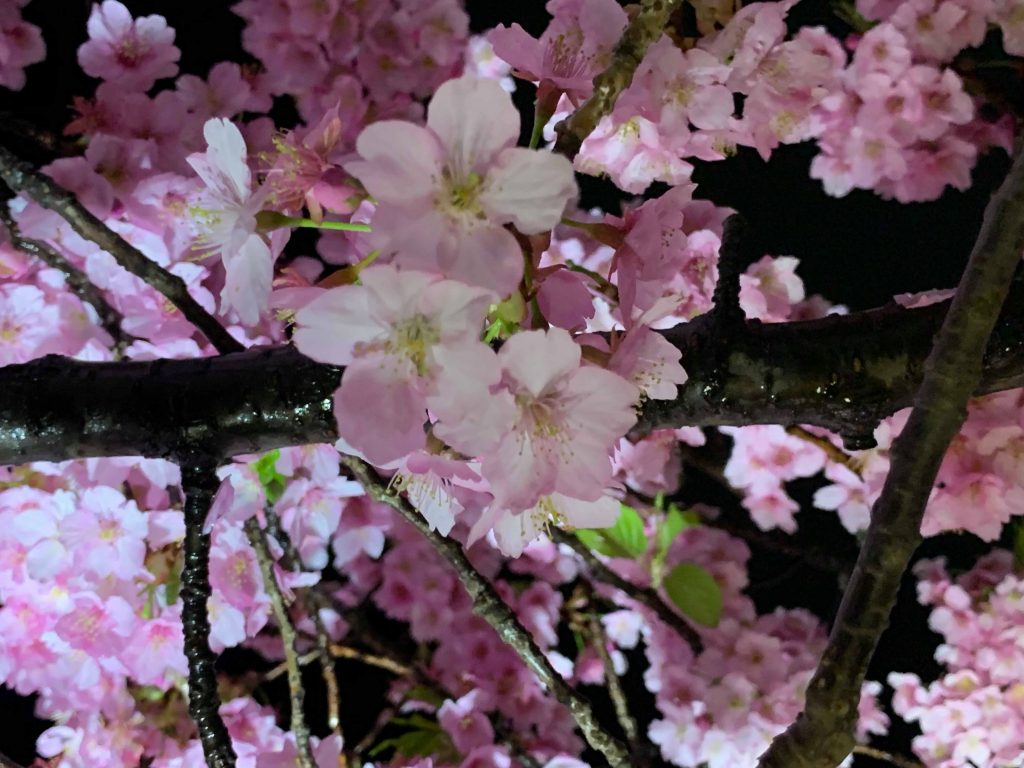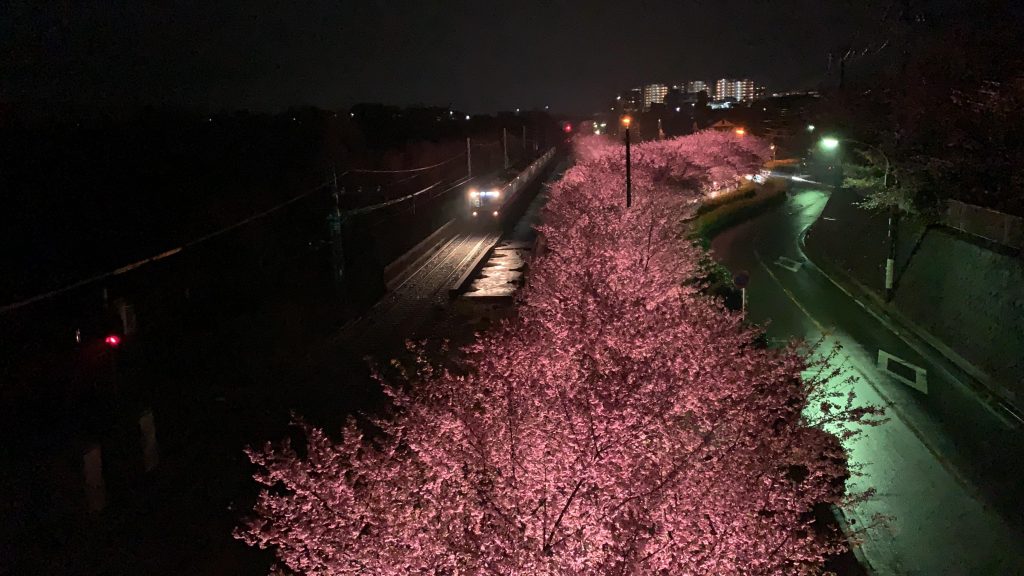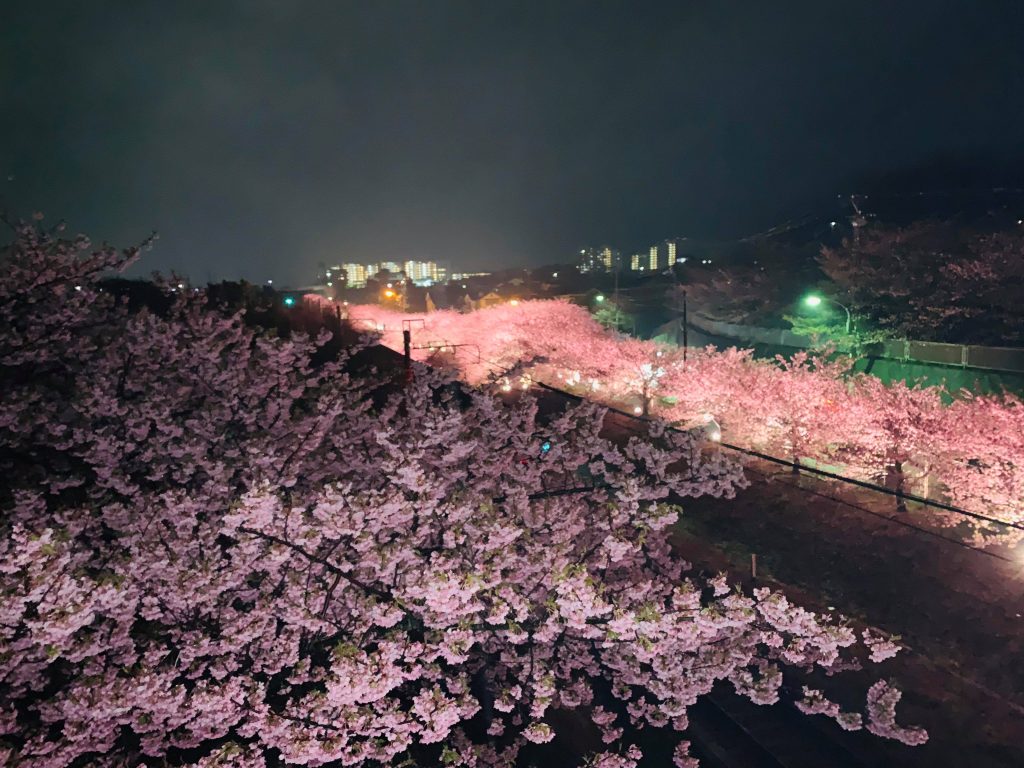 The dedication of the Japanese people to their service is superb and incomparable. This obachan was manning the pedestrian lane even if it meant that only 2 or 3 people cross every 30-minutes. All these in the middle of the rain and cold.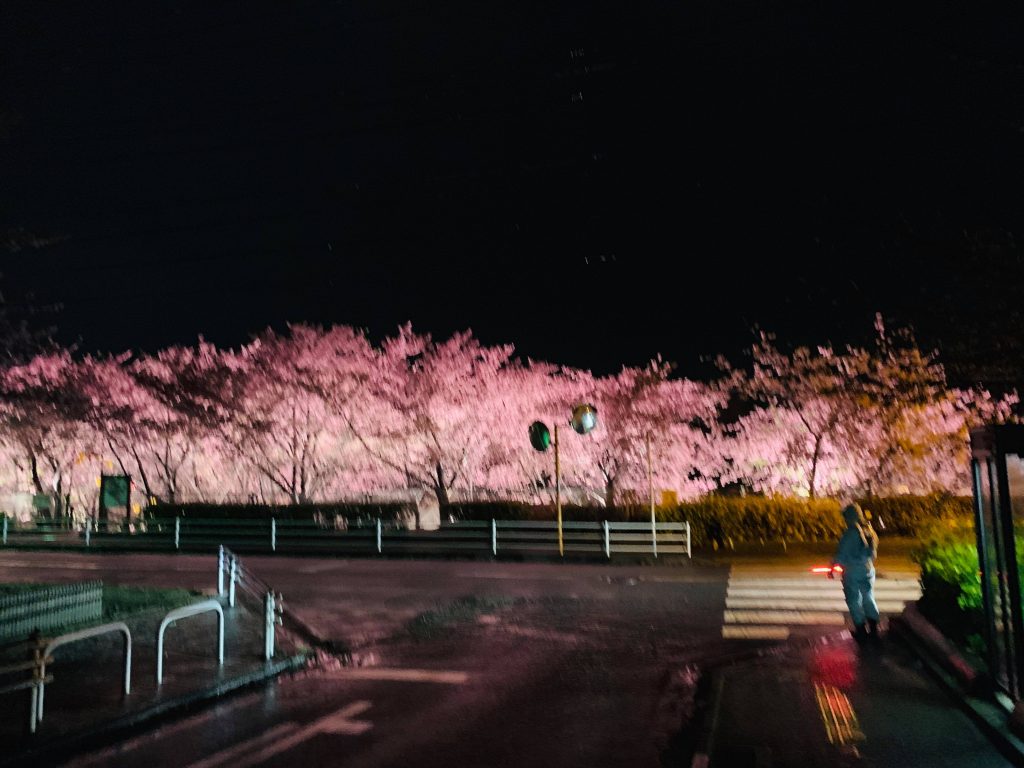 And what a better way to end the day than eating vendo ice cream.