Yesterday, I passed the certification for the Certified Scrum Master (CSM). You may now see me in the Scrum Alliance Directory. One of the reasons why I took the course (certification was secondary), was borne out of frustration from what I'm currently experiencing. But that was overshadowed by my eagerness to learn on what "Agile" really is, how Scrum works, what is the role of a Scrum Master, and should Scrum framework be used on certain scenarios (eg. projects).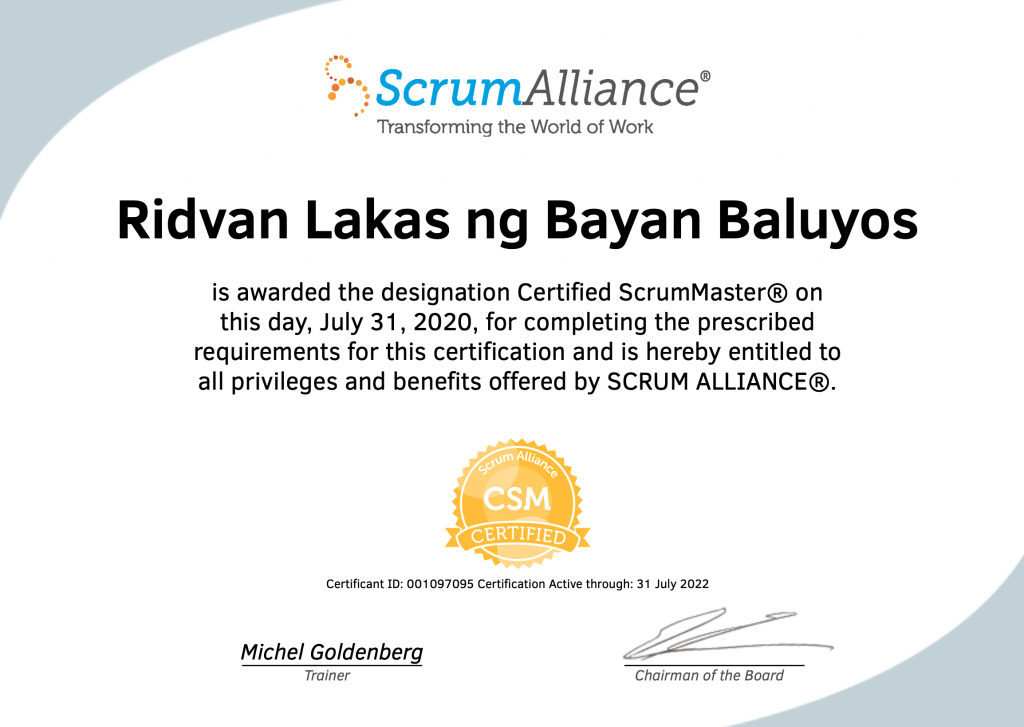 I initially applied for a training in January. It was supposed to be held in Hong Kong because Japan courses are too expensive. You can even pay for the course, the round trip flights, a 2-nights stay at a hotel, and still get a cheaper total amount. The good thing during that time was my credit card has reached its limit (due to Christmas expenses holiday prior month), so I have to wait for my credit card to replenish. That would be at the end of January. By that time, the COVID situation around the world has gotten worse. And whilst there were still no travel ban, I decided not to pursue anymore. I was really sad and devastated.
I was thinking already to take the PSM-1 certification from Scrum.org already, and have been studying the past weeks.
Fast forward, whilst checking again the Scrum Alliance website, I saw that they have pivoted some courses to be offered virtually during the pandemic. It's really a good move for them.
My training schedule was supposed to be on July 29-30, but due to some unavoidable circumstance, my training was canceled. Knowledgehut was really very helpful in assisting me find another slot (at no extra cost). I initially wanna do it during the weekend, but that would mean I will be exhausted. I still pushed through with the weekday class, although the timezone was really a challenge. The trainer will be in Lisbon, so the time frame for Tokyo will be 4pm-12mn. This means more time for me to sleep in the morning. Lol.
Our trainer, Michel Goldenberg, was really great. You should check out some of his training classes and take it. He is one of the few people who got certified during the early days of Scrum. His wide array of experience also backs it up. It was nice that in one of the breaks, when he knew that my timezone was Tokyo, we talked a lot of things about his Japan life. He also emphasized that the the certification is not the focus of the training, it's the individuals and interactions that is more important. Some organizations can offer you to take the certification without attending classes, but that defeats the purpose I guess of the Agile Manifesto. What do you think?
After finishing the course, I was waiting for the exam link via email because I wanna take the exam immediately. It was already past 12mn, and I got hungry. I went out and ate at the nearby 24-hour Matsuya. And since I've been inside the house all day, I decided to cycling around the neighborhood with my folding bike. Ah, the breath of fresh night time air.
I got the examination link and some registration stuff from Scrum Alliance via email. I went home immediately. It was now 2am, and the exam takes around 60 minutes. I had a dilemma on whether to push through with it or not. I'm already getting some headaches, and started to become sleepy but I chose to take the exam.
I finished all questions with still 15 minutes left, but Idecided to go through all the questions again and review. When my internet connection started to get wonky, I panicked that I decided to just end the exam and submit my results.
Voila, I passed! Albeit having sleepy eyes already, I think I went on autopilot taking the exam. I only got 45/50 (90%), just your typical normie average guy. The exam is moderate, and most contents are found on the Scrum Guide. Michel told us, do not use any other reference except the Scrum Guide. I've been studying for the PSM-1 certification and I have some reference and test exams with me. I have already started to notice several differences and inconsistencies with these materials from the Scrum Guide. So please, if you plan on taking CSM, just use the Scrum Guide.
There are some questions that are situational, and cannot be found on the Scrum Guide, but the best answer can be solved if you study the Scrum Guide by heart. Questions like, "Developer X was blah blah blah, which YYY did developer X exhibit?" You need to think carefully.
Overall, I'm satisfied with the training. I've heard some negative comments about Agile and Scrum, but seriously, the concept and the framework is excellent. It's the people doing it incorrectly that makes it look bad. And our trainer knows it, that's why he taught us when to use and when not to use it. There were questions which he answered, and were a very hard pill to swallow. And that's reality.
I'm glad and happy that I finally made it and became certified. I'm now thinking of taking the CSPO next. Hmm.
I also took the Scrum Professional Certificate on the same day. I hit 2 birds with one stone whilst the knowledge are still fresh. If you wanna take it, the link is posted below:
https://certiprof.com/pages/scrum-foundations-professional-certificate-sfpc-english