Last Sunday, after attending church service at CCF, I went and stayed at Starbucks Tiendesitas. The guy beside me was looking for an outlet when he noticed that his plug isn't compatible with the PH type (he was using European type). Right there and then, I figured out he was a foreigner (he looks Korean). He then whispered softly to me if there's available wifi at Starbucks, I told him to give me a second to check. Unfortunately, there was none. He then asked if he could use my laptop to search something over the internet. I noticed him searching for NH280 flight schedule, Manila Terminal Fee and Travel Tax, Manila Guesthouse, and Toshiba laptop price Manila. He also kept grumbling and murmuring "I hate the Philippines. I'm never coming back. Bad people, but not you."
He was apparently mugged early that morning. He was staying at Novotel in Cubao when some bad elements snatched his bag, containing his wallet, passport, and other documents. I apologized to him for what happened. He was also very hesitant sharing his experience. I thought to myself that maybe this was a scam, so I probed him.  He was a Japanese, on a holiday vacation in Coron, Palawan. He stayed here in Manila before going back to Japan.
I told him to stay put and that I'd be back. But he was already traumatized and a bit hysterical. He said in a scared voice, "Can I come with you? I'm really scared right now to be alone." So we went together in the nearby SM Hypermarket. I told him that I'd buy him an adapter so that he can use his laptop. He said that he longer needs it because he'd be selling his [company] laptop. I asked him why would he do that? He apparently only has 200 pesos in his pocket, and he'd like to pay me 10 pesos for making him use my laptop for the Internet. I told him that I just came from a church service, and he said that "I don't have religion. I only believe in myself." A part of me wanted to share Jesus and the gospel to him.
I asked him some details. His mother already booked him a return ticket c/o All Nippon Airways (ANA), thus he was searching for NH280. He just needs to go to the airport. He also said that all his documents were already taken cared of. He was even hesitant to talk to me at first because his mother told him not to talk to any Filipino anymore and not to say that he's a foreigner.
Along the way, he already wanted to walk going to NAIA Terminal 3 Airport. But I told him to follow me first. I told him that I understand he is scared and traumatized, and that he doesn't have to trust me, but instead, allow me to help him. I tried to make him feel comfortable by sharing my travel experiences in Japan. That I traveled from North (Wakkanai) to South (Nishi-Oyama), that I climbed Mt. Fuji and failed, etc. We went inside Hypermarket and he commented why is it that every time we enter malls, our bags are checked. Is it really that dangerous in the Philippines? I just told him that it's for everyone's safety.
I withdrew money from the ATM, just enough for him to pay the terminal fee, travel tax, meals, and extra padding for him to get through the day. Okay disclaimer, I wasn't hypnotized okay? I withdrew from the ATM and I was 100% on my senses. Hehe. He kept insisting that he'd just walk and that he'd sell his laptop. I told him to not sell his laptop and not to walk to the airport. But he still insisted on not accepting my help because I already helped him search the internet. I told him that I know it's Japanese attitude to not accept help, but it's also a Filipino and Christian attitude to help anyone who is in need. He still insisted. So I told him that I'd just buy his laptop, and then just return it when I go to Japan in November. He kept quiet.
I told him that I'd book him an Uber going to the airport because it's much safer. He asked how much is the fare, it was around 236 pesos. He reminded me again that he only had 200 pesos in his pocket. I told him not to worry about it because it's automatically charged to my credit card. He was even kind enough to remind me to be very careful about credit cards. I handed him 5,000 pesos, which he immediately put inside his pocket. I told him to split the money, put some in his pocket and some in his bag. He said that he'll do it once he is inside Uber, because people saw me handing it to him. Man, he must have really been traumatized.
We exchanged email addresses and he told me that we should see each other when I visit Japan in November. Before hopping in the car, he bowed and said "Hontou ni arigatou gozaimasu." and I also replied by apologizing to him on what my countrymen do to him and made him feel. We parted ways.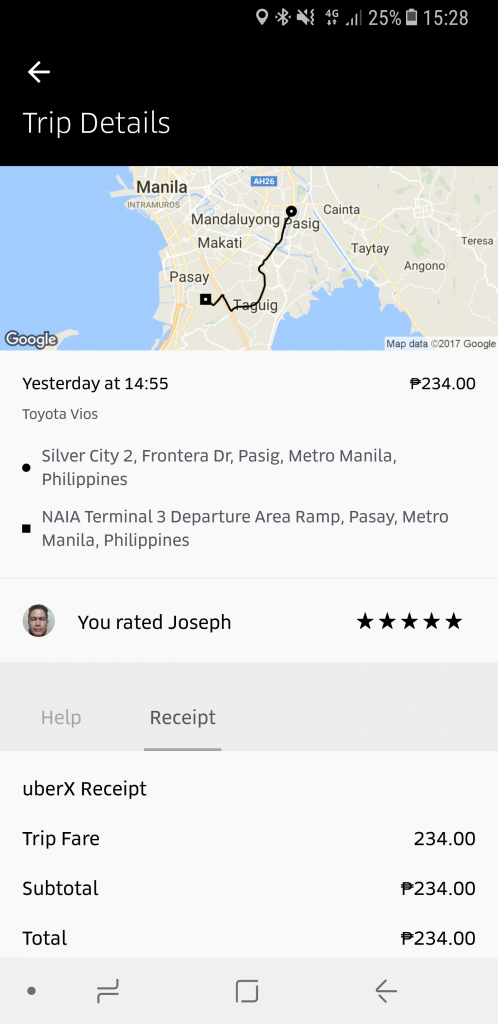 I went back to Starbucks when I felt like I wanted to search him online. I cannot divulge yet his full name here. But when I tried to test send an email to him, it bounced back. Maybe it was a scam? Or did he misspelled his email? Or did he intentionally give me a fake email because he was too afraid to give out information? I also asked some of my friends who were actually working as Immigration Officers in the Philippines. I told him of his situation and if it's possible for someone to pass through immigration without a passport. They said that he needs to visit the Japan Embassy to get a new passport or obtain an emergency document. It also came to my mind that I should have accompanied him to the police station to blotter what happened.
Scam or not, I believe it was worth helping the guy. I'm convinced he was very truthful and that all of his answers to me were genuine. I am reminded of this conversation in the movie Tokyo Drift.
Shawn Boswell: Why'd you let me race your car? You knew I was gonna wreck it.
Han: Why not?
Shawn Boswell: 'Cause that's a lot of money.
Han: I have money, it's trust and character I need around me. You know, who you choose to be around you lets you know who you are. One car in exchange for knowing what a man's made of? That's a price I can live with.
The 5,000 pesos was worth the risk to know and help a foreigner in my home country. So until he arrives safely in Japan and sends me an email, we can never tell if, in fact, it was true or not. I'm positive he was truthful and that he'd be able to get through the mess that my countrymen got him into.
I will post another article once there's any progress to this. God bless everyone.